Vigil of the Assumption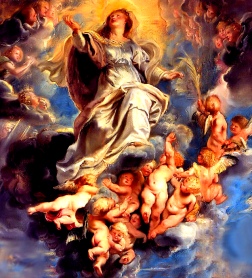 August 14: Vigil of the Assumption of Our Lady
The Vigil of the Assumption of Our Lady. Mention is made of this vigil, with fasting, by Pope Nicolas I, who was the pope in the year 858. It is recorded that on this day angels were heard, near the city of Soissons, singing this anthem:
"Felix namque es, sacra Virgo Maria, et omni laude dignissima, quia ex te ortus est Sol justitiae, Christus Deus noster."
Vigils were kept on the evening before each feast day from the earliest days of the Church. On that evening all of the faithful would gather together to prepare themselves and their dispositions for the feast they were about to celebrate. This might also include listening to readings from the Bible, or a sermon on the topic by a priest. Mass would then be celebrated on the feast day, and the fast would be broken. It is said that both Saint Augustine and Saint Jerome practiced and fully supported the idea of the vigil. The Vigil of the Assumption would have been one of the Church's most important vigils.

---
---
Vigil of the Assumption
"Of the glory and felicity of the saints in the beatific vision saint Paul says with Isaias (I Cor. 2,9; Is. 64, 4), that neither have mortal eyes seen, nor ears heard, nor can it enter into the heart of man what God has prepared for those who love Him and who hope in Him. In accordance with this Catholic truth, we should not wonder at what is related of saint Augustine, the great light of the Church, that, in setting out to write a book on the glory of the blessed, he was visited by his friend, saint Jerome, who had just died and entered into the glory of the Lord, and was admonished by his visitor, that he would not be able to compass his design; since no tongue or pen of man could describe the least part of the blessings enjoyed by the saints in the beatific vision. Such is the testimony of saint Jerome; and if through holy Scriptures we had no other information than that this glory is eternal, it would be beyond all our comprehension. For, however much of our intellect may expand, it will never comprehend eternity; and as this is infinite and boundless, it is inexhaustible and incomprehensible, how much soever it may be known and loved. Just as God, the Infinite and the Almighty, created all things, without being thereby exhausted, and even if He had created endless worlds ever anew, would remain still infinite and immutable; so also, although seen and enjoyed by countless saints, He will remain an infinite source of new knowledge and love; for in creation and in glory all creatures participate in Him only to a limited extent, each according to its condition, while He in Himself is without limitation or end.
"If on this account the glory even of the least of the saints is ineffable, what shall we say of the glory of the most blessed Mary, since among the saints She is the most holy and She by Herself is more like to her Son than all the saints together, and since her grace and glory exceed those of all the rest, as those of an empress or sovereign over her vassals?"
The Vigil of the Assumption

*from the writings of Abbot Orsini and The City of God, the Coronation
Marian Calendar, roman-catholic-saints.com
---
---
Return to Marian Calendar August

Return to Roman Catholic Saints Home Page from Vigil of the Assumption

---