The Holy Chapel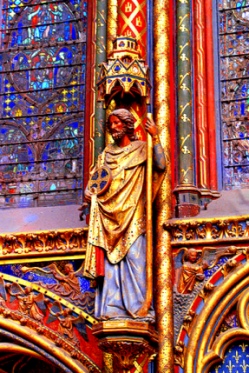 December 13: Our Lady of the Holy Chapel, Paris
This image, which is under the portal of the lower Holy Chapel, has wrought many miracles.
Saint King Louis IX, on his return from the Holy Land, built at Paris the so-called Holy Chapel (Sainte-Chapelle) in honor of Mary. In it he placed the relics of Our Lord's Passion which he brought with him from the Sacred Places in Palestine. Completed in the year 1248, it is a marvel of Flamboyant Gothic architecture. The structure itself seems but a delicate framework for the incredible stained glass windows. Even though the chapel was seriously damaged during the ravages of the French Revolution, most of the stained glass is original and the rest restored to its original condition.
At the door of the chapel stands a graceful statue of Mary. At the feet of this statue the doctors and literati of the day loved to prostrate themselves and their works.
Although the dogma of the Immaculate Conception of Mary had not yet been declared, many believed in it, and prelates preached it from the pulpits. John Dons Scotus, one of the most prominent theologians of the Middle Ages, was among those who believed in the Immaculate Conception, and he very ardently argued in her favor. He was beatified in the year 1993 by Pope John Paul II.

---
---
One day as Dons Scotus knelt before Mary's image preparing to champion her sinlessness against the antagonists, he asked her to bend her head forward if she were pleased with his efforts. The image of Mary inclined her head, and from that very moment the head of the image remained inclined.
Upon witnessing this miracle, the faithful championed the cause of Mary's Immaculate Conception, praying to her under the title and receiving answers to petitions, special graces and miracles.
The statue survived the French Revolution, and is currently on display in the Louvre Museum in Paris, which describes it as "unquestionably the most beautiful piece of ronde-bosse (in the round) ivory carving ever made," just as She is the most beautiful creature ever to have been created by God.
April 25: Dedication of the Lower Holy Chapel of Paris in honor of Our Lady (1248)
The Abbot Orsini wrote: "Dedication of the Lower Holy Chapel of Paris in honor of Our Lady by Philip, Archbishop of Bourges, in the year 1248."
The Holy Chapel

*from The Woman in Orbit and other sources
Photo courtesy of Didier B
---
The Architectural Collection of puzzles contains breath-taking photography of historic architecture

Stunning and detailed photography by Achim Bednorz

Purrfect Puzzles are made in The Netherlands to the highest quality, using recycled materials, in a compact 'Eco Box'

The well-fitting pieces are varied, glare-free, durable and thicker than normal and finished size 19.75" x 26.25"
---
Have A Great Story About This Topic?
Do you have a great story? Have You Visited This Shrine? Share it!
---
---
Return to Marian Calendar April

Return to Marian Calendar December

Return to Roman Catholic Saints Home Page from The Holy Chapel

---