Simon Van Ackeren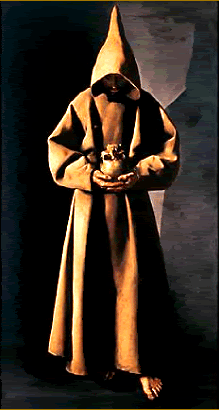 The Servant of God Simon Van Ackeren, Confessor, Third Order
The seventh child in a family of twelve children, Lawrence Van Ackeren was born in Humphrey, Nebraska, on February 17, 1918. Even as a boy, he stood out by reason of his spirit of prayer and his love of our Lord in the Blessed Sacrament. After completing grade school, he wanted to go to the Franciscan preparatory seminary at Westmont, Illinois; but he had such a hard time with his studies that he was told to finish high school first. In September 1936, he was admitted to the preparatory seminary and joined the fourth-year students. But by Christmas, he realized that he did not have sufficient talent to pursue the required studies for the priesthood, and he applied for admission as a Franciscan lay brother.
Toward the end of January 1937, he was sent to St. Joseph Theological Seminary, Teutopolis, Illinois, and was invested as a Tertiary brother about a month later, receiving the name of Brother Simon. His ankle started to bother him about a year after he arrived at Teutopolis, and he began to walk with a slight limp. Soon after, the limb became too painful, and he could scarcely walk. He was taken to St. Anthony Hospital in the nearby Effingham and received treatments for a month, but his ankle failed to respond. He returned to the seminary on crutches and was permitted to make his profession as a Tertiary brother on March 4, 1938. The next day he left for St. Louis to consult a specialist. After three weeks he came back, his ankle in a cast. The verdict was tuberculosis of the bone. Soon his general health began to fail. On the last day of April, he went to the hospital in Effingham. There the doctors found that he had galloping consumption and gave him only a short time to live.
The Servant of God Simon Van Ackeren
Brother Simon's condition quickly grew worse, and he was anointed on the sixth day after his arrival at the hospital. The next few days his strength failed rapidly. About ten o'clock on the night of May 10, while the sister on night duty was with him, his innocent soul winged its way to heaven. Though he was only a Tertiary brother for little more than a year, Brother Simon has gained a greater reputation as a saint and intercessor in heaven than any other deceased member of the Franciscan Province of the Sacred Heart. During his illness and suffering no one heard an impatient word escape his lips, and he never ceased praying. His sunny smile never wore off. His greatness consisted in doing the little things well – doing them with extraordinary and always cheerful willingness, fidelity, charity, patience, and piety. "Being made perfect in a short space, he fulfilled a long time." (Wisd. 4,13)
As it was, Brother Simon's delight to help others in life, so he has continued to help others in a remarkable manner also after his death. Innumerable favors have been reported and attributed to his intercession. Strangely enough Brother Simon is gaining a growing reputation as a missionaries' broker and a helper in financial difficulties. Constant favors are reported also from sick persons who have gained health or alleviation from ill health through a novena made in his honor. Hardly a week goes by that a note or letter does not mention some favor granted through the intercession of Brother Simon.
Brother Simon achieved great perfection in the sickness with which he was afflicted. Where does a person have more opportunity for patience, mortification, surrender to God's will, and devotion to the sufferings of Christ? That is why it sometimes happens that almighty God visits His favorites with long-standing or even incurable sickness; because in everything that He does in His wisdom, He has above all our soul and its welfare in mind. "Sickness of the body," says St. Gregory, "is the health of the soul."
Most people do not make use of sickness for the welfare of their soul, so that Thomas a Kempis says, "Few are improved through sickness." How does that happen? The reason is that they look upon sickness as an evil, and think of nothing but to avert this evil, but have not many persons been saved through illness, yes, even become saints, who would otherwise have been lost? Therefore, "reject not the correction of the Lord, and do not faint when you are chastised by Him. For, whom the Lord loves, He chastises.
Sickness is also a form of penance. By it, God permits us to atone for things which we should otherwise have to atone for in purgatory, only in a more painful manner. Our Divine Lord spoke thus to the paralytic, who, after enduring much pain on a bed of suffering for a long time, was finally brought to Jesus by four compassionate persons: "Be of good heart, son, your sins are forgiven you." The penance had been performed, and now He gave the man his health again. If we call this to mind often in times of painful illness, the pain will be less severe and at the same time very useful to us, since our soul will then enter the presence of God so much the sooner in eternity.
*from the Franciscan Book of Saints by Marion A. Habig, OFM
---
Return to May Franciscan Calendar