Saint Theodorus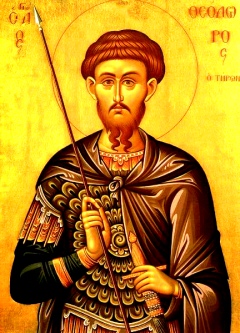 Saint Theodorus of Amasea
St Gregory Nyssenus has left us a noble panegyric in praise of Saint Theodorus, who belonged to the military profession, and was a most exemplary Christian. Also known as St Theodore, he happened to be with his legion at Amasea, a city of Pontus, when Galerius and Maximin were persecuting the Christians, in the year 306. His commanding officer, knowing him to be a Christian, commanded him to sacrifice to the gods, in obedience to the imperial edicts. The saint protested that he was faithful to the emperors, but was also anxious to be faithful to his God, and that sooner than abandon his faith, he would willingly lose his honors, his possessions, and his life.
He was accordingly brought before the governor, who used all his arts to persuade him to renounce Jesus Christ, but the Christian hero, despising alike his promises and his threats, boldly answered:
"I am prepared to persevere in my religion, although I be torn to pieces or burned alive; it is but just that my body should be sacrifice to Him who created it."
---
---
After this protestation, the governor discharged him, adding that he would give him time to consider whether he would obey the emperors; but Theodorus employed the while in imploring from God the graces necessary for the struggle that awaited him.
He continued to comfort the persecuted Christians, and to exhort them to remain steadfast in their confession of Jesus Christ. Moved by an extraordinary inspiration from God, he set fire one night to a famous temple in the city, dedicated to the goddess Cybele, who was adored by the pagans as the mother of the gods; and, as there was a high wind at the time, the fabric was quickly reduced to ashes. The saint, instead of concealing his action, joyously proclaimed that he had burned the execrable building, and was accordingly arrested and brought before the governor, who threatened the severest tortures unless he would atone for his crime by sacrificing to the gods. Theodorus answered that he gloried in what he had done.
The governor, perceiving that Saint Theodorus was not to be moved by threats, endeavored to gain him over by allurements, and promised to raise him to the pontifical dignity if he would comply.
The saint replied, "I look upon the idolatrous priests as unhappy men, and the pontiffs I consider more so. Since, among the impious, they rank highest; their condition is the more lamentable. Truly pious persons should rejoice in having the lowest place in the house of God."
Enraged at these words, the tyrant caused him to be stretched upon the rack, and his sides to be torn with iron hooks, until the bones were laid bare; yet during this terrible torture the saint joyously chanted that verse of the Psalm: "I will bless the Lord at all times: His praise shall be always in my mouth."
The governor, astonished at so much patience, said to him:
"Unhappy man! Art thou not ashamed to place thy confidence in that Christ who was obliged to suffer so ignominious a death?"
*St Alphonsus De Liguori

---