Saint Pollio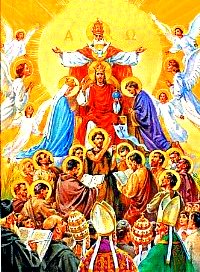 Saint Pollio, Lector
Cardinal Orsi relates that in the city of Cibales, Saint Pollio was presented to the governor, Probus, who asked him whether he was a Christian. Pollio answered that he was indeed a Christian, and the chief of the Lectors. Probus asked:
"Of what Lectors?"
The saint replied:
"Of those who read the Word of God to the people."
"Of those, perhaps," added Probus, "who are in the habit of seducing silly women, persuading them to refrain from marriage, and to observe a foolish continency?"
Pollio rejoined, "Those, instead, are foolish who abandon their Creator, to follow thy superstitions; on the contrary, they are wise who, notwithstanding their tortures, persevere in the observance of the commandments."
"Of whose commandments speakest thou?" Saint Probus asked.
"Of those that teach us to adore one only God, and not gods made of stone or wood: that teach sinners to be converted, and the virtuous to persevere – that teach virgins their exalted dignity, and married persons the observance of modesty – that teach subjects to obey, and legislators to command just things; finally, I speak of those commandments that teach us to aspire to eternal life, and to despise the death that thou canst inflict upon us."
"But what happiness," Probus asked, "can a man hope for, who, with life, has lost the enjoyment of light, and all the pleasures of the world?"
The saint answered, "There is an eternal light incalculably better than this! Happiness which never ends is, beyond comparison, preferable to that which shortly terminates; and isn't it prudent to prefer eternal enjoyments to those that quickly fail?"
Probus interrupted the saint's discourse, saying, "What do these words avail? Do that which the emperor hath commanded – sacrifice to the gods."
"Do thou that which hath been commanded thee," Pollio said, "I will not sacrifice, for it is written, 'He that sacrifices to devils, and not to God, shall be exterminated.'"
"Then," Probus said, "Thou shalt be decapitated."
"Execute thy orders," Pollio said placidly. "I am obliged to follow the doctrine which my fathers and bishops have taught me; I shall suffer with joy whatever thou mayest inflict."
Probus was so enraged that, instead of ordering his decapitation, he condemned Saint Pollis to be burned alive.
When the saint was led to the place of execution, he offered himself as a sacrifice to god, and blessed his holy name for making him die a martyr for His glory. He suffered courageously on the 27th or 28th of April, in the year 304.
*St. Alphonsus de Ligouri
---
---
Return to Roman Catholic Saints Home Page from Saint Pollio

---