Saint Genesius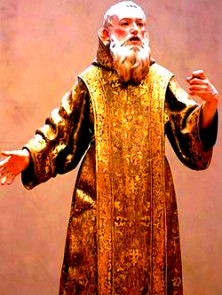 Saint Genesius, the Comedian
Authentic documents, quoted by Ruinart, induce us to believe that the martyrdom of Saint Genesius took place at Rome, at the beginning of Diocletian's reign, about the year 285.
Our saint was a favorite comedian, and such an enemy to the Christians, that he did not exempt from his hate those of his relatives who professed the faith. Having become acquainted with the ceremonies of the Church in the administration of baptism, he wished to amuse the emperor and the Roman people by turning this holy sacrament into ridicule; and accordingly, acting the part of a dying Christian, the ceremonies of baptism were performed upon him by another player, who impersonated the character of a priest.
---
---
Saint Genesius

But when the player, sitting down beside him, said, "Well, my child, why hast thou sent for me?" Genesius was suddenly illuminated by divine inspiration, and answered, not in jest, but seriously,
"I desire to receive the grace of Jesus Christ, and to be relieved from the weight of my sins, which oppress me."
The usual ceremonies were then performed, but he seriously answered the questions proposed, and declared that he was in earnest in professing his belief therein. During the reception of this baptism he was favored with a vision in which he saw an angel, surrounded with heavenly light, holding a book in which his sins had been written. The angel having immersed this book in the waters of baptism, showed it to Genesius perfectly white.
In continuation of the play, Genesius was clothed in the white robe of the neophytes, after which certain players representing soldiers came to seize him, and present him to the emperor as a Christian. But when he was brought before Diocletian he manifested the vision with which he had been favored, and proclaimed his desire that all present should acknowledge Jesus Christ to be the true God, through whom alone it is possible to be saved. Diocletian was both surprised and irritated here at, and having ordered him to be severely beaten with clubs upon the spot, he delivered him over to Plautian, prefect of the praetorian, that he might compel him to renounce Jesus Christ.
Plautian ordered him to be stretched upon the rack, to be torn with iron hooks, and burned with torches; during which horrid infliction the saint made the following protestation:
"Jesus Christ is the sovereign Lord of all things. Him will I adore, although I be obliged to suffer a thousand deaths. All possible tortures shall never take Jesus Christ from my heart or from my lips. My only grief is that I have so long persecuted his holy name, and have learned to adore him, alas, so late!
He was then beheaded, and thus went to receive his reward in heaven.
By St. Alphonsus de Liguori
(Saint Genesius did not receive the sacrament of regeneration, as the player did not intend to do that which the Church doth, but merely to represent and ridicule her most sacred rites. Our saint, however, received the baptism of martyrdom.)
---
---
Return to Roman Catholic Saints Home Page from Saint Genesius