Our Lady of Virtues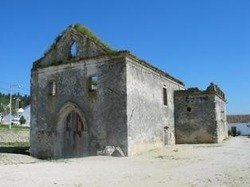 March 8: Our Lady of Virtues, Lisbon, Portugal
Nossa Senhora de Virtudes

The Church of the monastery of Our Lady of Virtues, or Nossa Senhora de Virtudes in Portuguese, until recently was nothing more than a ruin located north of Lisbon, Portugal. A small church was constructed in 2009, and further work is planned. The site is now protected because of its historical importance, but for no other reason, as pilgrimages and devotion to the Blessed Virgin declined from the 19th century until the 21st century when there remained almost no memory of the glory that once was.
According to tradition, the origin of the Church of Our Lady of Virtues relates to the appearance of Our Lady to a keeper of cows back in the early fifteenth century. The apparition gave rise to a pilgrimage to the site, as well as the later construction of a primitive chapel, presumably made of wood and other perishable materials. A short time later, due to the growing importance of the site and the devotion of the faithful that he saw going on around him, King Duarte commanded that a Franciscan monastery be built that would be attached to the chapel. Following upon the construction of the monastery, a hospital was also soon built, and then subsequently inns and other businesses supporting the thriving community that grew up around the chapel. Pilgrimages to the shrine became widespread throughout the remainder of the fifteenth century.
---
---
Our Lady of Virtues
Of unquestionable importance throughout the Middle Ages, the more recent centuries have seen the abandonment of pilgrimages to the shrine, as well as the decay of the buildings and the eventual abandonment of the site by the Franciscans. At the beginning of the 1990's, when excavations were made at the monastery, all that remained was ruins. Despite the fact that the monastery was almost completely destroyed, there are still some structural remains located on the north side of the church, and most of these structures are assumed to still be buried beneath the earth. This is believed because the church of Our Lady of Virtues itself was partially buried before the archaeological work was begun to reveal it.

---
Have A Great Story About This Topic?
I have very limited information about this feast of Mary. Have you visited this shrine? Do you have more information, or a great story about this? Please share it!
---
---
Return to Marian Calendar March

Return to Roman Catholic Saints Home Page from Our Lady of Virtues

---