Our Lady of Victory
Valois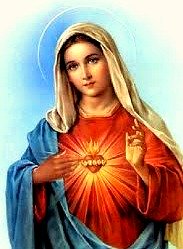 August 23: Our Lady of Victory of Valois, France (1328)
The feast of Our Lady of Victory of Valois has to do with Our Lady's intercession in the Battle of Cassel, which was fought between the French, under Philip of Valois, and the Flemish near Mount Cassel on August 23 in the year 1328. Philip of Valois, or King Philip VI, "Philip the Fortunate," was the King of France beginning that year until his death in 1350.

Philip was nearly forced to lead his army against the band of Flemish rebels under Nicolas Zannekin, who were seeking independence from French rule. Having refused to pay what they considered to be excessive taxes to the Count of Flanders, they eventually imprisoned the king's representative and captured several French towns. The Pope asked Philip to do what he could with the rebels, but after having restored the Flemish aristocracy, the Flemish rebels had turned even on them, killing many of them.
---
---
Our Lady of Victory
Valois
Philip was certain of victory, taking 2,500 knights and 12,000 infantry and archers with him into battle. Not knowing where he would attack, the Flemish rebels would have to divide their forces to protect their territory. Even so, the Flemish under Zannekin brought 15,000 soldiers into the field at Cassel.
For three days the two armies did nothing but taunt each other, though the Flemish commenced a direct attack on the French on the third day. Apparently the French were caught off guard, for many of them had taken off their armor because of the extreme heat that day. Fleeing in panic, the knights left the field while much of the French nobility who stood their ground were wounded. The Duke of Lorraine was slain, and the situation appeared desperate.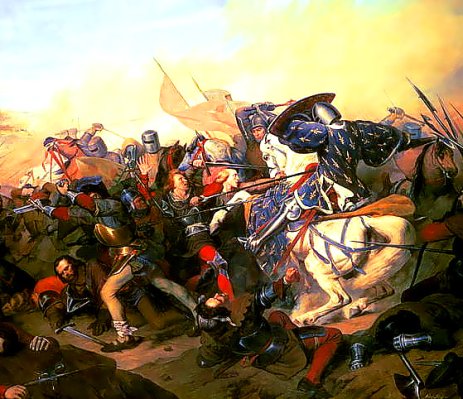 It is recorded that Philip of Valois, being surrounded by Flemish soldiers as the flower of his nobility fell, had recourse to the Blessed Virgin, who immediately delivered him from that danger. The Dauphin of Vienne, Guigues VIII de la Tour-du-Pin, had been given the command of Philip's 7th Corps. He led a counter attack which shattered the Flemish assault, while the knights regrouped and attacked the Flemish from the rear. The Flemish were defeated and victory assured by Our Lady of Victory Valois.
Our of gratitude for this favor when he made his entry into Paris, Philip went straight to Notre Dame Cathedral. Going into the church on horseback he proceeded the whole length of the nave to the crucifix, and there laid down his arms. The picture of this monarch on horseback was for a long time to be seen in that church, to which Philip gave a revenue of 100 livres, to be levied on his domain of Gatinais.
Our Lady of Victory Valois

*from The Woman in Orbit and other sources
James Fitzhenry, roman-catholic-saints.com, Marian Calendar
---
---
Return to Marian Calendar August

Return to Roman Catholic Saints Home Page from Our Lady of Victory Valois

---