Our Lady of the Way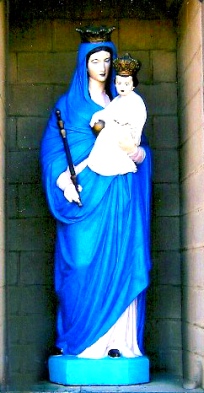 August 11: Our Lady of the Way, St. Charles, Missouri
In Saint Charles, Missouri, there is a roadside shrine, called Our Lady of the Way: it is believed to be the only one in the world dedicated to the Virgin Mary under this title.
It was built by twenty-five volunteers, all laymen, at the intersection of the two major highways, about eight miles west of Saint Charles, Missouri. The original idea was to build the shrine in honor of Our Lady of Perpetual Help, but the priest who was asked about it, suggested that it be called Our Lady of the Way instead. Now it is fondly referred to as "Our Lady of Missouri."
The shrine faces Interstate 70, in the town of Saint Peters, in Saint Charles County. It was originally located about a mile to the west of its present location following in part the route of Boone's Lick Road, which was for 40 years the major overland road leading to the great American West.
---
---
Our Lady of the Way
The shrine consists of a statue of Mary with vases of flowers on either side, and an image of a book carved in stone at her feet. Engraved in the book is written: "Our Lady of the Way. Our Lady of the Way is the patroness of all who travel along the roads of the world and on the Seven Seas. O Lord Jesus Christ who art the way, the truth and the life, grant us in Thy mercy, that through the intercession of Blessed Mary, Thy Virgin Mother, we may run the way of Thy commandments and reach unto eternal life."
There is also a plaque which honors Wendell A. Boschert's family for the donation of the land for the shrine's original location, and to the May Company for the donation of the land for the present location. It also includes the names of the Charter Members who produced the shrine.
Our Lady of the Way, or Our Lady of the Road, or Madonna Della Strada, is patroness of the Society of Jesus, the Jesuits. The original icon bearing this name resides in the Society's church in Rome.
*from The Woman in Orbit
roman-catholic-saints.com, Marian Calendar
---
Have A Great Story About This Topic?
Do you have a great story? Have You Visited This Shrine? Share it!
---
---
Return to Marian Calendar August

Return to Roman Catholic Saints Home Page from Our Lady of the Way

---