Our Lady of the Vault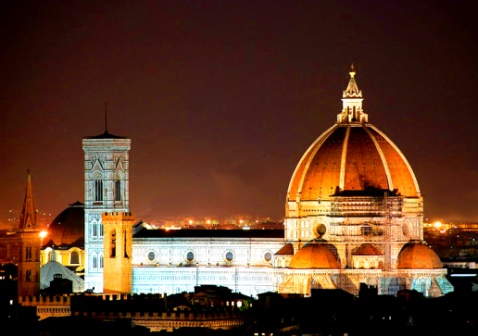 November 23: Our Lady of the Vault, Italy
The Abbot Orsini wrote: "Our Lady of the Vault, near the town of Saint Anastasia, in the environs of Florence."
There is no longer any town named Saint Anastasia or Santa Anastasia near Florence, Italy, and I can find no reference to a church or icon known as Our Lady of the Vault.
There is a church in Florence that this feast might perhaps be referring to – The Duomo, Florence's Cathedral of Saint Mary, or Santa Maria del Fiore. The dome is said to be the largest free-standing dome since ancient times, and is 348 feet high. It provides for a wonderful view of the city of Florence, and is a true triumph of 15th century engineering. The problem was that the dome was also expected to be 150 feet wide, and even those building the cathedral had no idea how they would go about spanning the space when they got to it, for it was far larger than any attempted since the days of antiquity with the great Roman engineers. The problem was put off for a later generation.
---
---
Our Lady of the Vault
It's hard to believe that such a design problem was left to the last minute, but fortunately, there was one man capable of the job. His name was Filippo Brunelleschi, and his work became the future emblem of the city of Florence.
Consider that the builders did not even have the money to afford the massive supports and scaffolding that was thought to be necessary to even begin work on the dome. One suggested solution was a proposal to fill in the space with dirt, and then pile it up in the shape of a dome which they could build around. To save the expense of removing the dirt after the dome was built, coins could be placed here and there in the dirt pile, and the poor invited in to look for the money, if they were also willing to take out the dirt they had dug through.
But Brunelleschi understood the secret of Rome's Pantheon. He began by building the outer ribs to support and distribute the weight, and instead of heavy stone, used interlocking bricks, which were lighter and more solid. No scaffolding was required, as the builders used chains attached to the dome they were building to suspend themselves in place to work. Even so, it took sixteen years to complete, but it was a huge advance in engineering for that time.
The city of Florence recognized the genius of Brunelleschi, for after his death he was buried directly beneath the dome he had created. He remains the only person ever buried in the vaulted cathedral dome.
Photo courtesy Marcus Obal
---
Have A Great Story About This Topic?
I have very limited information about this feast of Mary. Have you visited this shrine? Do you have more information, or a great story about this? Please share it!
---
---
Return to Marian Calendar November

Return to Roman Catholic Saints Home Page from Our Lady of the Vault

---