Our Lady of the Rock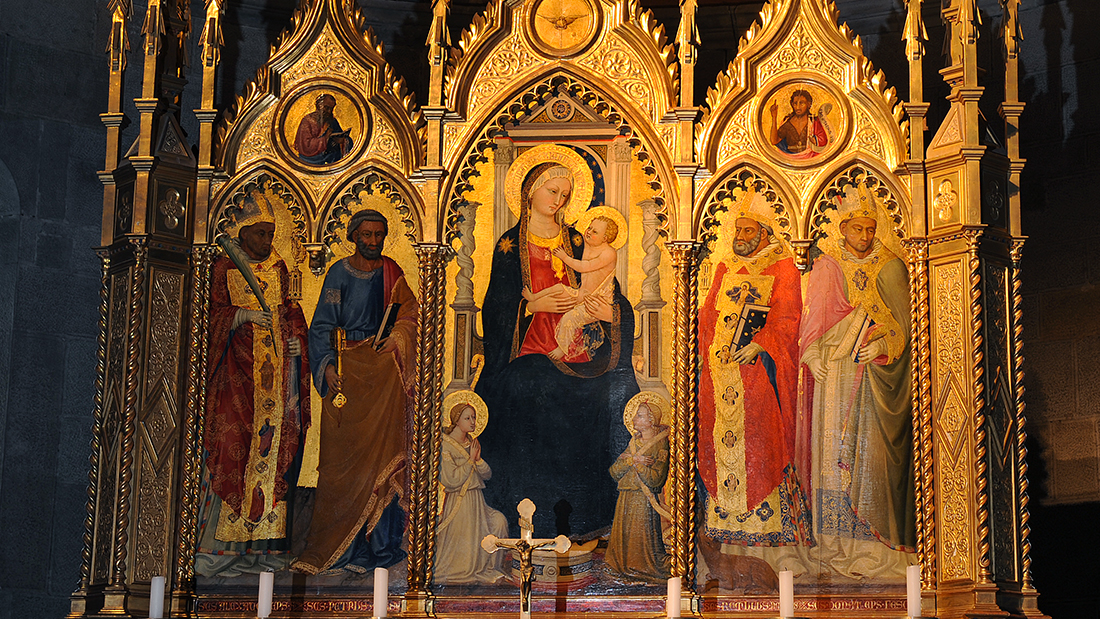 November 25: Our Lady of the Rock of Fiesola, Tuscany, Italy (1028)
The Abbot Orsini wrote: "Our Lady of the Rock, in the territory of Fiezoli, in Tuscany. This image is placed in a rock, where two shepherds retired to pray; Our Lady ordered them to build a church in this place."
The town of Fiezoli was originally Etruscan before the Roman Sulla settled it as a reward for his veterans. In the year 539 the Byzantine general Justinus captured the town and had it razed to the very foundations. The town came back over time, however, as by the Middle Ages it was actually more prosperous and influential than neighboring Florence, until it was sacked by the Florentines in 1025 and its nobles induced to change their residence to Florence.
According to local legend, the Gospel was first preached at Fiesola (in the province of Tuscany, Italy) by Saint Romulus, a disciple of Saint Peter during the days of the Christian persecutions. Proof of that is the fact that the ancient cathedral stands outside the city walls.
---
---
Our Lady of the Rock
The cathedral of Saint Romulus was built in 1028 by Bishop James Bavaro with materials taken from several other edifices – hence, the shrine took the name Our Lady of the Rock. The little church, now known as the Cathedral or Duomo of Saint Romolo, is in the cathedral square – called the shrine of the Primerana – is the one dedicated to Our Lady. It was then enlarged in 1260, and again the following century. The bell tower dates from the year 1213.
The cathedral contains sculptures by Mino da Fiesole, and the old cathedral was once a Benedictine abbey and had a large library, though that has long since been dispersed to other locations. The abbey closed in 1778.
Among other apparitions, too numerous to mention, is the one in which Mary warned Saint Andrew Corsini of his approaching death. During his lifetime, our Blessed Mother obtained from her Divine Son for Andrew the gifts of prophecy, miracles of healing, the conquest of hardened souls and many other conversions.
The cathedral of Fiesole is the resting place of a long list of saints and illustrious churchmen, all of whom were devout clients of Our Lady.
*from The Woman in Orbit and other sources
---
Have A Great Story About This Topic?
Do you have a great story? Have You Visited This Shrine? Share it!
---
---
Return to Marian Calendar November

Return to Roman Catholic Saints Home Page from Our Lady of the Rock

---