Our Lady of the Portuguese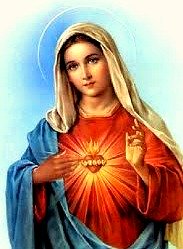 November 11: Our Lady of the Portuguese (1546)
The Abbot Orsini wrote: "On this day, about the year 1546, the Portuguese gained a great victory over the infidels, who had been before the castle of Die, in the East Indies, for the space of seven months, and who would have carried it by storm, if Our Lady had not appeared upon the walls; which caused so great terror in the enemy's camp, that the siege was at once raised."
The Portuguese began building the stronghold of Diu, their symbol of Portuguese influence and authority in the region protecting their lucrative trade with India, on November 20th, 1535, and finished the work a short time later on February 29th of the following year. The fort was circular in shape, having walls 20' high and 12' thick, made of solid stone and lime. There was a deep ditch immediately before these stout walls, and the fort had three triangular shaped bastions. Manned with a garrison of three hundred and fifty men, it was further supported by a fleet of eleven ships. Manuel De Souza was named the fort's first Captain.
It was not long before the Portuguese came under siege, as an Ottoman fleet made up of 72 ships laid siege to the stronghold in September of 1538. There were many pitched battles, but as time wore on the Portuguese suffered from a shortage of men and ammunition, and a lack of adequate nutrition brought scurvy and great suffering to the defenders. The fort had less than 40 men left alive when the siege ended after a strong Portuguese relief force arrived on scene, but in actually the victory was the result of the gallantry of the men and women defending the fort and the grim determination with which the Portuguese held the bastions against every manner of assault.
---
---
In 1546 there was a second assault on Diu that began on the eve of Easter, and this time the Portuguese thwarted the efforts of the Turks to capture the fort in a pitched battle recorded as one of the greatest ever fought by the Portuguese troops in India. The siege had continued uninterrupted from April 20th 1546 until November 7th, when a Portuguese fleet finally arrived on scene under Viceroy Juan de Castro.
The Portuguese success in Diu confirmed Portuguese dominion and their hold over the region. Contemporary accounts, of course, do not mention the miraculous intervention of the Blessed Virgin Mary during the siege, even though it was recorded that she appeared on the ramparts holding a lance in her hand to defend the fort from the enemy.
Our Lady of the Portuguese

---
---
Return to Marian Calendar November

Return to Roman Catholic Saints Home Page from Our Lady of the Portuguese

---