Our Lady of the Jesuit College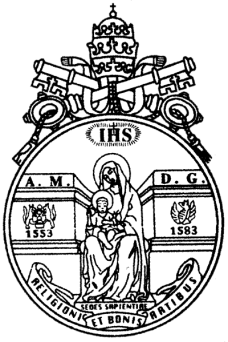 December 5: Our Lady of the Jesuit College, Rome (1584)
The Abbot Orsini wrote: "In the year 1584 was instituted the first congregation of Our Lady at the Jesuits' college, at Rome, whence is derived their custom of establishing it in all their houses."
The Sodality of Our Lady, or the Sodality of the Blessed Virgin Mary, was actually founded in 1563 by a Belgian Jesuit, Father John Leunis, at the Collegio Romano in Rome. It was established for young males, and the Papal Bull Superna Dispositione opened it up to adults under the authority of the Superior General of the Society of Jesus, the Jesuits.
A Jesuit historian recorded that it was originally "made up especially of younger boys from the college, who agreed to go to daily Mass, weekly confession, and monthly Communion, as well as to engage in a half-hour of meditation each day and do some other pious exercises." The youth were among those who felt drawn to the spirit of the Jesuits, and were often called the "Congregation Mariana." Once formed into a Sodality of Our Lady, they were to do apostolic work in the city of Rome, while also serving the poor. Their patron was the Blessed Virgin Mary. Since the time of its humble beginnings in 1563, twenty-two Sodalists have become Popes.

---
---
After Fr. Leunis' death in 1584, Pope Gregory XIII canonically established the Sodality Group of the Roman College in his bull "Omnipotentis Dei." The sodality of Fr. Leunis was declared to be the mother of all such subsequent sodalities. Having attained the status of Prima Primaria, it had gained the right to partner with other similar groups, and through that affiliation all could share in the indulgences and privileges of the Prima Primaria, with the General of the Society of Jesus having the authority to grant such an affiliation. These sodalities were established all over Europe, India and Asia, as well as in the Americas, and included both sexes. They reached their greatest number in the 17th century, when it was estimated that there were as many as 2500 such groups.
Pope Clement XIV suppressed the Society of Jesus, and separated the sodalities from their jurisdiction. From that time on it was Catholic bishops who established Marian Sodalities throughout the world.
Our Lady of the Jesuit College

---
Have A Great Story About This Topic?
Do you have a great story? Have You Visited This Shrine? Share it!
---
---
Return to Marian Calendar December

Return to Roman Catholic Saints Home Page from Our Lady of the Jesuit College

---