Our Lady of the Grotto
Lamego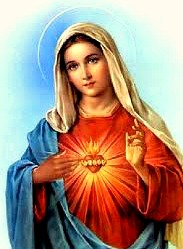 November 14: Our Lady of the Grotto, Lamego, Portugal
The Abbot Orsini wrote: "Our Lady of the Grotto, in the diocese of Lamego, in Portugal. This chapel was cut in the rock, in the same place where an image of the Blessed Virgin had been found."
Lamego is both a municipality and a city in northern Portugal, the city having a total of less than 9,000 inhabitants. The city is an ancient one, as the Roman's came to settle the area in about the year 500 BC. The people became Catholic when the Ricardo I, the Visigothic king, converted to Christianity late in the 6th century A.D. There is an ancient chapel located in the municipality of Lamego, dating from about that time, named Sao Pedro de Balsemao, but there seems to be no reference to an image of the Blessed Virgin once being found there. I can find no current reference to it in Portugal, although there are shrines with similar names in places like the island of Malta.
---
---
After the Muslim invasion of the Iberian Peninsula the following century, the region was fought over by Christians attempting to regain their homeland against the Moorish forces who resisted them. This continued until King Ferdinand I of Leon and Castile took the fertile valley from the Moors for the last time in the year 1057.
One of the most important events to ever have occurred in Lamego was the meeting of the kingdom's first Cortez (a meeting of the nobles) in which Afonso Henriques was acknowledged as the first king of Portugal in about 1140. King Afonso was responsible for building the Cathedral of Lamego, but only the tower of the original structure remains. The rest of the cathedral that can be seen today was added in later centuries.
Pilgrimages to Santiago de Compostela were popular during the Middle Ages, and Lamego was one of the towns situated on the path that many would take to that shrine in Spain. Lamego was also a starting point for those travelling to the city of Cordoba or Seville in Spain.
There is also an ancient castle encircled by a wall atop a hill overlooking the region. It dates from the 12 century, but many of the structures and residences in the town are centuries old, giving the town a decidedly medieval flavor.
Our Lady of the Grotto Lamego

---
Have A Great Story About This Topic?
I have very limited information about this feast of Mary. Have you visited this shrine? Do you have more information, or a great story about this? Please share it!
---
---
Return to Marian Calendar November

Return to Roman Catholic Saints Home Page from Our Lady of the Grotto Lamego

---