Our Lady of the Grotto
Lamego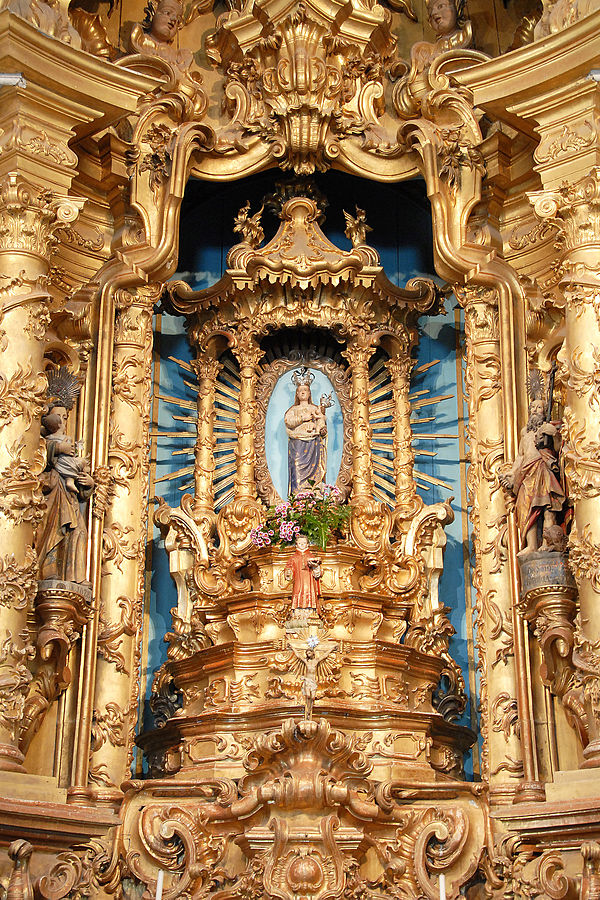 November 14: Our Lady of the Grotto, Lamego, Portugal
Sanctuary of Nossa Senhora dos Remedios

The Abbot Orsini wrote: "Our Lady of the Grotto, in the diocese of Lamego, in Portugal. This chapel was cut in the rock, in the same place where an image of the Blessed Virgin had been found."
Lamego is both a municipality and a city in northern Portugal, the city having a total of less than 9,000 inhabitants. The city is an ancient one, as the Roman's came to settle the area in about the year 500 BC. The people became Catholic when the Ricardo I, the Visigothic king, converted to Christianity late in the 6th century A.D. 
The sanctuary of Nossa Senhora dos Remedios, or Our Lady of Remedies, is in the location of Our Lady of the Grotto. It is in the town of Lamego, district of Viseu, Portugal, and is located atop the hill of Saint Stephen. 
---
---
Our Lady of the Grotto
Lamego
This site begins as an old hermitage that was dedicated to Saint Stephen (Santo Estevao) constructed in 1361, so Catholic devotion here goes well back into the Middle Ages. By the 16th century, the old hermitage was at risk of collapsing, and so was demolished to make way for the construction of a new hermitage in the same spot. The bishop of Lamego placed a image of the Virgin and Child there, and thus over time Marian devotion eclipsed devotion to Saint Stephen. Miraculous cures, especially of diseases, brought more pilgrims and the name for the image as Our Lady of Remedies.
The Marian shrine that can be seen there today, however, was built during the 18th through the 20th centuries, from 1750 to 1905 when it was completed. September 8th, the Nativity of the Blessed Virgin, is the date when there are feasts in honor of Our Lady of Remedies, as she is better known, for reasons I will explain below. The celebration in September includes fireworks, musicals, sporting events and recreational activities that take place in amid the trees in a grove of a nearby park. There is a parade known as the Procession of the Triumph, who's participants are richly dressed, that is the highpoint of the celebration.
Inside the church there is an altar above which the image of Nossa Senhora dos Remedios rests. It is carved in wood, and is surrounded by stained glass windows having images of Our Lady of the Immaculate Conception, the Sacred Heart of Jesus, and the Annunciation. Two side altars are dedicated to the parents of the Blessed Virgin, Joachim and Saint Anne.
There is also a famous Baroque staircase, having 686 steps, that leads to the sanctuary. There are several levels, decorated with sculptures of kings, and eight fountains. There is also a "Court of the Kings" where eighteen Kings of Israel, all belonging to the family tree of the Blessed Virgin and Mother of God, can be seen.
---
Have A Great Story About This Topic?
I have very limited information about this feast of Mary. Have you visited this shrine? Do you have more information, or a great story about this? Please share it!
---
---
Return to Marian Calendar November

Return to Roman Catholic Saints Home Page from Our Lady of the Grotto Lamego

---