Our Lady of the Don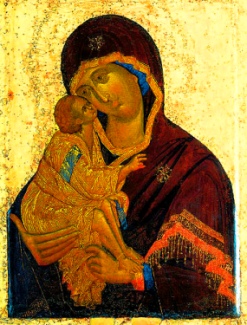 August 19: Our Lady of the Don, Russia (1380)
A famous icon titled Our Lady of the Don was painted in the latter part of the fourteenth century by a Greek artist named Theophanes of Novogorod, who had assimilated Russian iconographical traditions. The painting dates from 1382-1395. It is double-sided, having a painting of the Assumption on the back. A book kept at Donskoy Monastery states that the image was given by the Cossacks to Dmitry Donskoy the day before the Battle of Kulikovo.

A feast of Our Lady of the Don was observed on August 19, 1380, in thanksgiving for the incredible victory of the Russians over the Golden Horde of the Tartars at Kulikovo Pole, and the capture from them of Kazan in the year 1552.

The Battle of Kulikovo Pole was fought on the river Don. Dmitry (called Dmitry of the Don) Donskoy commanded the Russian forces in the battle, which one chronicle states numbered 400,000 men. The Russians had never won a battle against the Mongols, and the army they faced was a horde that numbered at least as many men. A chronicle, the Zadonscina, captured the patriotic feeling: " horses neigh in Moscow, horns sound in Kolomna, drums are beaten…glory resounds through the whole Russian land."
---
---
Our Lady of the Don
The battle began after the morning fog cleared with a fight to the death between the two great champions from each army. The Russian champion was a monk named Alexander Peresvet, who had been sent to the combat by Saint Sergius. Alexander and the Mongol champion made an initial run at each other, and both received mortal wounds. The Mongol fell from the saddle, however, while Alexander kept his mount.
Dmitry strongly suspected that his army would disband if he were killed in battle, so he came up with an interesting ruse. He had a young man named Mikhail Brenok exchange armor with him and pretend to lead the army. Once the battle commenced, the Mongols drove through the ranks to kill the Russian commander. Mikhail was slain, but Dmitry continued to fight.
---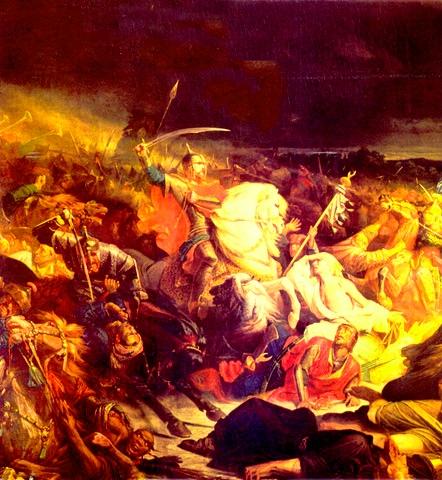 ---
Dmitry was severely wounded as the battle seemed to turn against them, though he remained on the field and in command until victory was secured and he fell over from exhaustion and loss of blood. He won due to the cavalry charge of Prince Vladimir of Serpukov, who had been held in reserve by Dmitri until that moment. It has been estimated that 200,000 men were lost on both sides during the battle, and a Russian chronicle relates that, "…the river Don flowed in blood for three days."
Czar Ivan the Terrible kept the icon with him in 1552 when he went on his Kazan expedition and it was he who, after his victory, gave the image to the Cathedral of the Annunciation in Moscow. In the year 1591, Czar Fedor Ioannovich prayed before the image when besieged by the Khan Kazi Ghirei and received from heaven a miraculous deliverance. The image of Our Lady of the Don is now found in the Tretyakov Gallery in Moscow.

*from The Woman in Orbit and other sources
James Fitzhenry, roman-catholic-saints.com, Marian Calendar
---
Have A Great Story About This Topic?
Do you have a great story? Have You Visited This Shrine? Share it!
---
Return to Marian Calendar August

Return to Roman Catholic Saints Home Page from Our Lady of the Don

---
---