Our Lady of Spire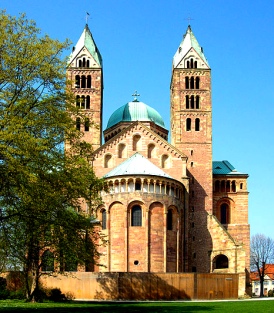 December 29: Our Lady of Spire, Germany (1146)
Our Lady of Speyer
The Abbot Orsini wrote: "Our Lady of Spire, in Germany. Saint Bernard, entering this church on the 29th of December, 1146, was honorably received there by the canons, who conducted him to the choir, singing the Salve Regina. The antiphon being finished, Saint Bernard saluted the image of the Blessed Virgin in these terms: "O clems, O pia, O dulcis Virgo Maria!" and she answered: "Salve Bernarde!" The words of this saint to the image are seen engraved in a circle on the pavement of the church, on the same spot where he pronounced them, and they have since been added to the salve Regina, which was composed in the year 1040, by Herman, surnamed Contractus, a Benedictine monk."
This date on the Marian calendar, Our Lady of Spire, actually refers to the Cathedral of Speyer, dedicated to the Blessed Virgin Mary, and known as Kaiserdom zu Speyer in Germany. Construction began on the Romanesque style cathedral in the year 1030 and was completed in 1106. It is 146 yards long and 47 yards wide, which made it one of the largest buildings constructed at that time in the Middle Ages, and it now thought to be the largest surviving Romanesque building in the world.
---
---
Our Lady of Spire
During the Nine Years' War the entire town of Speyer was burned to the ground, and the heat from the inferno caused part of the nave to collapse. In 1792 the town was occupied by the French revolutionary troops, and the church pillaged. It was in that century that the ruins of the chapel of Saint Bernard were removed. The cathedral was subsequently used as a warehouse and hospital.
In 1957 the cathedral was restored, and although much of the plaster and 19th century paintings were removed, the scenes of the life of the Blessed Virgin were left undisturbed. At this time the cathedral is still undergoing restorations that are scheduled to be completed in 2015. In 1981 the cathedral was added to the World Heritage List of UNESCO.
Photo courtesy of Alfred Hutter
---
Have A Great Story About This Topic?
Do you have a great story? Have You Visited This Shrine? Share it!
---
---
Return to Marian Calendar December

Return to Roman Catholic Saints Home Page from Our Lady of Spire

---