Our Lady of Schiedam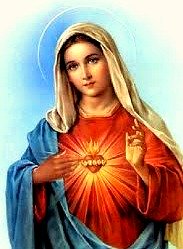 August 7: Our Lady of Schiedam, Holland (15th Century)
This statue is located in Holland. The chronicle relates that a merchant, who had stolen this image, embarked with the intention of selling it at a fair at Antwerp. Mysteriously, he could never get away from the port. Alarmed at this prodigy, he restored the image which he had taken away, and it was solemnly translated to the Church of Saint John the Baptist.
It was at the shrine of Our Lady of Schiedam that the mystic, Saint Lidwina, (also Lydwine) spent whole nights in prayer. Born at Schiedam on 18 April 1380, early in her life Lidwina was drawn toward the Mother of God and prayed a great deal before this miraculous image. The Mother of God revealed to her the extent of suffering Christ would ask her to endure, but likewise assured her that she, Mary, would sustain her through her grace and intercessory power. (Interestingly, the name Lidwina means "suffering.")
One winter day in 1395, when Lidwina was about 15 years old, she went out to skate with her friends. At one point she fell on the ice so hard that she broke a rib that would not heal. This was the beginning of a martyrdom that would end only with her death nearly four decades later.
---
---
Our Lady of Schiedam
At first Ledwina began to have difficulty walking, and had severe headaches, nausea and thirsts. It was only the beginning, though, as the wound became gangrenous and the disease spread all over Lidwina's body, without, however, killing her. For the rest of her life Lidwina was bedridden and lay in indescribable pain, and in the last seven years of her life was completely blind. It seemed impossible that she could remain alive in such condition, as even parts of her body fell off and blood would pour from her mouth, ears, and nose. The Blessed Virgin Mary was true to her word, though, as was Saint Lidwina in accepting the will of God in imitation to Our Lady's Fiat.
Saint Lidwina prayed much despite her suffering, and was particularly devoted to the Eucharist and willingly bore her anguish for the love of God. She was also a stigmatic, and her diet consisted for some time of nothing other than the Blessed Sacrament. Saint Lidwina received various visions, many of them of Heaven and Hell. On Easter Sunday in the year 1433 she had a final vision and received the Last Rites from Our Lord Himself.
After 38 years of suffering, Saint Lidwina died a holy death at the age of 53.
*from The Woman in Orbit and other sources
James Fitzhenry, roman-catholic-saints.com, Marian Calendar
---
Have A Great Story About This Topic?
Do you have a great story? Have You Visited This Shrine? Share it!
---
---
Return to Marian Calendar August from Our Lady of Schiedam
Return to Titles of Mary from Our Lady of Schiedam
Return to Roman Catholic Saints Home Page from Our Lady of Schiedam
---