Our Lady of Saint Acheul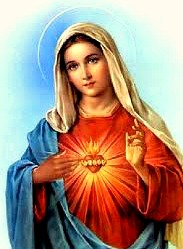 December 21: Our Lady of Saint Acheul, Amiens, France, founded by Saint Firmin, Bishop (4th Century)
The church containing the shrine of Our Lady of Acheul, was located near Amiens. In fact Saint Acheul was once considered the mother-church of the cathedral of Amiens, and was sometimes called the "old cathedral of Amiens," although this is no longer believed.
The church stands on the very place where once a Roman temple stood, and legend tells that Saint Firminus was the Apostle of Amiens, arriving there before the close of the third century after Christ. It is said that by the eloquence of his preaching and the number of his miracles, Saint Firmin converted many idolaters to the True Faith and baptized three thousand men in forty day.
The early church, built around the year 300, contained the remains of the martyred saint. This church was devastated repeatedly by the invasion of the Normans, and was finally totally destroyed in 1218. The relics of Saint Firmin were transferred to the Cathedral of Amiens during the Middle Ages.
---
---
The shrine of the Virgin of Saint Acheul is noteworthy for a singular miracle of an apparition which occurred during the Holy Sacrifice of the Mass. The celebrant, after the consecration, saw a hand appear from within a luminous cloud, and the hand of Christ take the Sacred Host and drop it into the chalice. Some of the faithful present likewise witnessed the same thing; a certain skeptic was brought to his knees in humble acceptance of the fact that the Holy Sacrifice is truly the same as that of Calvary. The armorial bearings of the abbey of Saint-Acheul displays a hand in remembrance of this miracle.
The present cathedral of Saint Acheul was not finished until the fifteenth century. After the erection of the new cathedral at Amiens, Saint Acheul was known as the church of Our Lady of Acheul. Miracles took place frequently and pilgrimages continued for many years.
The church of Saint Acheul was destroyed by a natural phenomenon, probably a strong storm, in about the year 1750. It was rebuilt, and completed in 1760.
*from The Woman in Orbit and other sources
---
Have A Great Story About This Topic?
Do you have a great story? Have You Visited This Shrine? Share it!
---
---
Return to Marian Calendar December

Return to Roman Catholic Saints Home Page from Our Lady of Saint Acheul

---