Our Lady of Ratisbon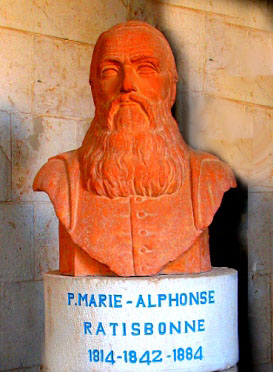 December 1: Our Lady of Ratisbon, Bavaria (1842)
One of the most famous examples of Our Lady's bounty in granting favors to the wearers of the Miraculous Medal occurred less than ten years after the medal had been struck.
Alphonse Rathisbonne was a French Jew who had no religion. When his brother Theodore became a Catholic and then a priest, Alphonse was filled with aversion. He was a typical intellectual of the nineteenth century, a worshipper of humanity, who sneered at anything spiritual in his pride and ignorance.
In November 1841, Alphonse found himself in Rome, although his itinerary had not called for a stop in the Eternal City. There he met Baron de Bussiere. The Baron urgently requested him to wear the Miraculous Medal and to recite daily the prayer of Saint Bernard, "The Memorare." Alphonse did so in the spirit of acceptance and of dare but without the slightest bit of faith.
---
---
Our Lady of Ratisbon
On January 20, 1842, Monsieur de Bussiere saw Alphonse walking along the street and invited him into his carriage. They stopped at Saint Andrea delle Fratee because the Baron wished to see a priest there. In order to kill time, Rathisbonne entered the church.
He was not very much impressed and was walking around rather listlessly. Suddenly the church seemed to be plunged into darkness and all the light concentrated on one chapel. Very much startled he saw there our Blessed Mother bathed in glorious light, Her face radiant. He went toward her. She motioned with her right hand for him to kneel. As he knelt, he realized at last the sad state of his soul. He perceived that mankind had been redeemed through the Blood of Christ, and he was seized with a great longing to be taken into the Church of Christ. The blessed Virgin spoke not a word, but these things came to him as he knelt before her.
The next day Alphonse was baptized by Cardinal Patrizi, vicar of Pope Gregory XVI. The Holy Father as bishop of Rome, ordered an official inquiry and after four months the authenticity of the miracle was recognized.
Alphonse Maria Rathisbonne, as he was named after his baptism, devoted the remainder of his life to winning over his fellow Jews to Christ.
Our Lady of Ratisbon

*from The Woman in Orbit
---
Have A Great Story About This Topic?
Do you have a great story? Have You Visited This Shrine? Share it!
---
---
Return to Marian Calendar December from Our Lady of Ratisbon

Return to Titles of Mary from Our Lady of Ratisbon

Return to Roman Catholic Saints Home Page from Our Lady of Ratisbon

---