Our Lady of Naples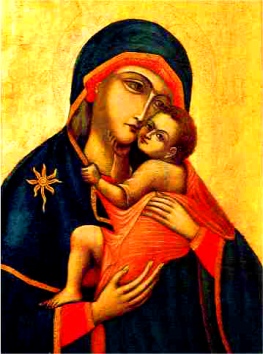 May 27: Our Lady of Naples, Italy (533)
The Abbot Orsini wrote: "Dedication of Our Lady of Naples, called Saint Mary Major, by Pope John II, in the year 533. A picture of the Blessed Virgin, painted by Saint Luke, has been carefully preserved in this church."
The Basilica Sanctuary of Carmine Maggiore is one of the largest basilicas in Naples. Dating back to the thirteenth century, it stands in the Piazza Carmine in Naples, on one side of what once was the market square.
According to tradition, the Carmelites fled from the Holy Land during the persecution following the Islamic invasion of the Holy Land, bringing with them the icon of the Virgin of Tenderness believed to be painted by Saint Luke the evangelist. It was said to be the first image venerated by the ancient Carmelite Order, and once in Naples, it was enshrined above the high altar of their church. The icon became known as La Bruna, or Madonna Bruna, because of the dark tone of the skin caused by the votive candles which had burned before it for centuries.
---
---
Our Lady of Naples
In the year 1500 the Black Madonna was taken in procession to Rome. Many miracles occurred in the course of the pilgrimage, and the icon was displayed at Saint Peter's Basilica for three days. There were so many miracles that occurred that when the icon returned home the ruler of Naples, Federico d'Aragona, King Frederic II, decided to test the Mother of God.
King Frederic had the audacity to seemingly demand a miracle from heaven. He ordered all of the sick, the lame, the blind, the crippled, and anyone of his kingdom with any kind of malady to come to the church on June 24th to implore a cure from heaven. He instructed that they were all to assemble having had examinations and with written documentation as proof of their sickness or disability on the appointed day.
On June 24th of that year a Holy Mass was celebrated in the presence of the king, his nobles and all the people. During the consecration a ray of vivid light was seen to rest on the face of the Madonna, and at the same time reflecting its light upon each of the sick and infirm. In that instant they were cured of their maladies, and this miraculous cure was authenticated by many witnesses.
James Fitzhenry, roman-catholic-saints.com, Marian Calendar
---
Have A Great Story About This Topic?
Do you have a great story? Have You Visited This Shrine? Share it!
---
---
Return to Roman Catholic Saints Home Page from Our Lady of Naples

---