Our Lady of Moustier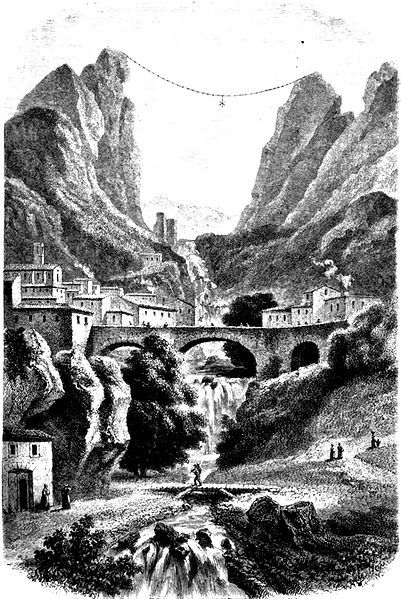 August 27: Our Lady of Moustier, France
Eight or ten leagues from Sisteron, in the direction of Marseilles, France, is the shrine of Our Lady of Moustier, known in the native French as Notre Dame de Beauvoir at Moustiers. The chapel is some 800 meters above the town nestled in the rocky peaks, and there are 262 steps carved in rock that make a wide path that leads up to the shrine from the beautiful little village below. Along the way one will pass the Stations of the Cross that have been used by pilgrims since the 5th century.
It is said that in the year 470 AD there already was a small shrine occupying the location in honor of the Blessed Virgin, possibly having been founded by a group of monks from the Abbey of Lerins who had taken up residency in the caves located among the rocky peaks. The first actual chapel, Notre-Dame de Beauvoir, was built upon the ruins of the earlier shrine, and dates back to the eighth century and the time of Charlemagne. It was restored in the 12th century in the Romanesque style, and again in the 16th century in a more Gothic style.
---
---
An ancient tradition records that a lord of the country, the Duke de Blacas, who was also a Knight of Saint John of the Hospital, had been captured by the Turks during a Crusade. While in captivity he made a vow to the Blessed Virgin that he would build a chapel in her honor, Our Lady of Moustiers, if she were pleased to deliver him.
The Blessed Virgin heard his prayer; and an angel appeared to him and took him on his wings, carrying him back to his country. The Duke de Blacas immediately set to work making good on his promise, erecting a magnificent chapel to the Blessed Virgin where numerous miracles have been wrought. The town of Moustiers is also often called "the village under the star," because, in addition to building the chapel, the knight suspended a gold star from a chain that he hung high above the village by fastening the chain into the solid stone atop two rocky peaks. The original star had sixteen rays, which was the emblem of his family, and was poised directly over the chapel. The present star that can now be seen is a replica dating back to 1882, having only five rays.
The church of Notre Dame de Beauvoir was last restored in the year 1928, and is now a national historical monument, as well as a popular place of pilgrimage.
*from The Woman in Orbit and other sources
---
Have A Great Story About This Topic?
Do you have a great story? Have You Visited This Shrine? Share it!
---
---
Return to Marian Calendar August

Return to Roman Catholic Saints Home Page from Our Lady of Moustier

---