Our Lady of Montevergine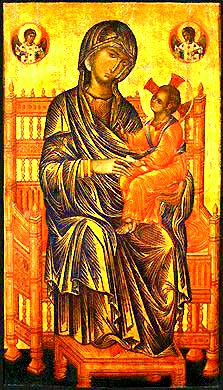 May 22: Our Lady of Monte Vergine, near Naples, Italy (1119)
Also known as Our Lady of Montevergine, or as "Mother Schiavona," this image was preserved from the flames at the monastery and church consecrated in her honor.
A very famous Benedictine sanctuary located in the village of Montevergine in the Campanian region of Italy is known as "Monte Vergine;" its religious history goes back to pre-Christian times when there was a temple of Cybele there. A chapel of the Blessed Virgin was built in the seventh century, and in the year 1119 Saint William of Vercelli founded the monastery that still exists high up on the mountains. Saint William was a hermit who came back to his native Italy after making a pilgrimage to the shrine of Santiago de Compostela in Spain.
Due to Saint William's reputation for sanctity, many men were drawn to him and soon there were many cells located on the mountain. The first true church was constructed in 1126, and was dedicated to the Blessed Virgin.
---
---
Our Lady of Montevergine
In the church is a large icon of the Mother and Child "of Constantinople" (said to have been brought to Italy by King Baldwin of Jerusalem) which came into the possession of the monastery in 1310. King Baldwin was only able to take away the upper portion of the large image. The dark figures on the icon of Our Lady of Montevergine stand out strikingly from the gold background; the present lower part of the picture is a later addition.
The image is quite large, with a height of over 12 feet and width of over 6 feet, showing the Blessed Virgin seated on a throne with the Divine Infant Jesus seated on her lap. The image is dark, so the icon is often referred to as one of the "Black Madonnas." There have apparently been several renovations made to the original painting, as in 1621 two crowns were placed on the heads of the Virgin Mary and her child Jesus, and other additions were made in 1712 and 1778.
During World War II the church was used to hide the famed Holy Shroud of Turin, the burial cloth of Christ. A new basilica was begun in 1952 in the Romanesque style, and this structure was consecrated in 1961. There are over one and one half million pilgrims yearly who come to Monte Vergine to visit Our Lady of Montevergine, most notably at Whitsuntide. There have been numerous miracles attributed to this portrait of the Mother of God and her Divine Son.
There is a church at Seattle, Washington, dedicated in honor of Monte Vergine, Our Lady of the Mount, and another at New Brunswick, New Jersey.
*from The Woman in Orbit and other sources
---
The following is a submission from Chris, after a May 2018 visit.
We visited 5.26.2018 with my mother-in-law, who was born in Bagnoli, Naples in 1931. She started pilgrimages here in her teens, and continued to visit each time she visited Naples after marrying an American Army man in 1959. This was likely her last visit.
My prior visit was in 1986, and the grounds and museum have been greatly improved and updated.
I was stuck by two items which I would like to know more about:
1. The incorrupt body of a monk: what is his name, and what is the story behind his life? Is this St William of Vercelli, I think not, but don't recall his name.
2. The footprint of Mary. There is a rock with an imprint of a foot that local custom ascribes to a Marian visitation. Is there any more to this story and has it been validated by the Church?
Thanks,
Chris

---
A submission by Mr. Charles A. Connell, Fayetteville, NC, USA 

In 1945-1946, I served as a very young soldier in the USA Army. I was stationed for most of that time in the MTOUSA headquarters in Caserta, Italy, north of Naples. We were a multinational army group (American, English, Italian, French, Free Polish) responsible for Allied forces in the Mediterranean Theater of Operations.

Our Catholic Chaplin, Fr. Kilmartin, formed a Holy Name Society unit with American and British soldiers. He arranged for many visits to pilgrimage sites in Italy, including a weekend at St. Padre Pio's monastery at San Giovanni Rotondo, where we met and talked with Padre Pio.

One of our pilgrimages was to the Monastery of Monte Vergine, near Avellino. We trucked up the mountainside on a cold day in the winter of 1946 after the war had ended. The monks at the monastery met us, and showed us through the chapel, explaining its history. Afterwards, the good monks served us spaghetti and delicious hot sauce, with glasses of red wine. What a beautiful experience all of this was for GIs so far away from home and loved ones!
I recall one unique item of piety and devotion which I haven't read about in all the literature I've seen concerning this chapel. In the center of the chapel, on a raised, stone platform, there was the body of a monk. He seemed to be in a deep sleep, with his arms folded on his chest, dressed in his Benedictine habit. As I recall, we were told that this monk had died many years ago, but his body had not corrupted. I would be interested if anyone reading this could elaborate on this matter.

I'm now 87, and my time in this life is limited. For all these years, I have retained a deep devotion to Our Lady of Monte Vergine, I call on her for her prayers and intercession for me every evening in my final daily prayers. There was something moving and really spiritual that we experienced in our visit to the chapel of Our Lady of Monte Vergine, and I'm indebted to the good priests, monks and people of Italy who introduced us to Our Lady in her chapel. 
Thank you for your submission, Mr. Connell!
---
Have A Great Story About This Topic?
Do you have a great story? Have You Visited This Shrine? Share it!
What Other Visitors Have Said
Click below to see contributions from other visitors to this page...

Our Lady of Montevergine Not rated yet
In 1945-1946, I served as a very young soldier in the USA Army. I was stationed for most of that time in the MTOUSA headquarters in Caserta, Italy, north …
---
---
Return to Roman Catholic Saints Home Page from Our Lady of Montevergine

---
Your first paragraph ...