Our Lady of Miracles
Brescia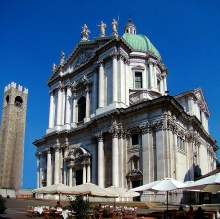 May 23: Our Lady of Miracles of Brescia, Italy (1478)
The Abbot Orsini wrote: "Our Lady of Miracles, at Saint Omer's, where a glove and some portion of the hair of the Blessed Virgin are preserved."
This north Italian shrine in Lombardy originated with a painting of the Blessed Virgin on the outside of a house. During an epidemic of bubonic plague that devastated Brescia in 1478, it is recorded that it became the occasion of miracles of healing. It is documented that the symptoms of the plague began with a severe headache, and then the lymph glands would become swollen and often painful. The extremities would become gangrenous, and the victim's body would literally decay before they would suddenly die. The plague began in March of the year and continued until July the next year. 200 people died per day in the town, while the population of the city dropped from just under 40,000 to somewhat less than 4,000 during that perilous time.
---
---
Our Lady of Miracles
Brescia
Our Lady of Miracles, Brescia, cont:

The church of Our Lady of Miracles in Brescia was built to honor the image of the Blessed Virgin before which so many people were miraculously healed. Construction began in 1488 in thanksgiving to the Blessed Virgin for those who survived, but work was not completed until 1500. The image that was once seen on a house near the church can now be seen in the church's apse. The elaborately carved façade of the church is made of marble, and is treasured as an outstanding example of Renaissance sculpture in that region. The church was struck by allied bombs during World War II, and was so damaged that it had to be almost completely rebuilt after the war. The façade was preserved, however, due to heavy wood planking that the people of Brescia used to cover the façade to protect it from shrapnel and exploding munitions.
There are several other shrines of this name in Italy and elsewhere (Aubervilliers and Mauriac in France), sometimes called "of Portents," which name particularly commemorated a series of miracles recorded in several parts of Italy in 1796-97.
The observance of a feast of Our Lady of Miracles is a very widespread custom, on a great variety of dates. I can find no reference to the Blessed Virgin's hair or her glove that were once preserved there.

*from The Woman in Orbit and other sources, roman-catholic-saints.com, Marian Calendar
Photo courtesy of Tango7174
---
Have A Great Story About This Topic?
Do you have a great story? Have You Visited This Shrine? Share it!
What Other Visitors Have Said
Click below to see contributions from other visitors to this page...

Do not miss this Church when you go to Brescia! Not rated yet
There are so many churches in Brescia but we enjoyed this one so much. There was an old man and he was happy to explain everything. We spend almost an …
---
---
Return to Roman Catholic Saints Home Page from Our Lady of Miracles Brescia

---