Our Lady of Last Agony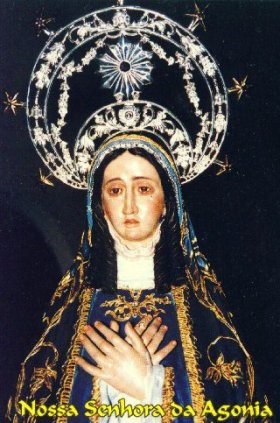 November 10: Our Lady of Last Agony

There exists in Viana do Castelo, Portugal, a shrine dedicated to Our Lady of Agony. It is situated close to the sea, and the fishermen of that city, in virtue of being so often in great danger of sinking from storms and tempests, invoke the Virgin Mother under the title of Our Lady of Agony. The sea can be very rough near the coast, and when stirred by typhoons, has been known to throw the fishermen's vessels against a cliff called "Penedo thief."
When a sudden storm would burst upon the sea, the families of the fishermen would go down to the dock watching in anguish the struggle for survival of the fishermen who were their husbands, sons, and brothers. On their knees, they called to Our Lady of Agony with a touching faith, asking that those they loved would return safely with the catch that was their livelihood.
Since about 1700, pilgrimages to the shrine have been increasing from year to year. There are more and more celebrations that take place, and pilgrims and tourists from many nations of Europe come to Viana do Castelo to witness and share in the events. Although many do not come to make petitions to the Blessed Virgin, but instead come for the pyrotechnic spectacle of fireworks and entertainments, and to revel in the festivities of a seaside village animated with vivacity and joy in thankfulness. Still, even the tourists are witnesses to the religious ceremonies, which includes a maritime procession in honor of our Lady of Agony, which is organized by the fishermen, and may visit the shrine to pray and pay homage to the Virgin who is known by many names, but is always the same and wonderful mother of us all.

---
---
Our Lady of Last Agony
Our Lady of Last Agony, to whom we owe next to God our restoration in the spiritual life, who gave us new birth so to say on Calvary, while her Divine Son agonized on the Cross, deserves the above title in full measure. Her title is a translation of that of Co-Redemptress of the Human Race, since the work of Salvation has for all of us its full consummation only in the decisive moment of death. Besides, the Church invites us to ask God for the grace of a Happy Death through the merits and the intercession of the Queen of Martyrs.
How gratefully, therefore, ought we to thank God for having secured for us, by the assistance of His Mother, at the moment of our death, the palm of victory!
Whence did Mary obtain the extraordinary privilege of procuring for those who are faithful in invoking her, the grace of a happy death and the assurance of eternal salvation? Without doubt, devotion to the Mother of God faithfully practiced during life, is a sign of predestination and, as such, assures for us at the hour of death the assistance of this divine Mother. How could Mary abandon at this supreme moment anyone who has faithfully called upon her during life?

Because Mary has merited by her own death the power of succoring her faithful servants at the moment of the great passage from life to eternity; having assister her Divine Son during His agony and death on the Cross, she received from Him the mission of assisting us equally during our agony and at the hour of our death.
It is through Mary that Jesus was given to us, when He came a tiny Babe in the infirmity of human flesh, wrapped up in swaddling clothes, in order to save us; it is equally through Mary that on the last day we hope to see face to face this same Jesus surrounded by the glory of the Father – the source of eternal happiness for us: "And after this our exile, show unto us the Blessed fruit of thy womb, Jesus."
A true servant of Mary cannot perish, because devotion to this divine Mother, in keeping us virtuous, gives us a certain pledge that Heaven will be ours. Death is the crown of life: a good life cannot end in eternal loss. If we prove ourselves worthy of Mary's assistance, as Our Lady of Last Agony, she is bound to procure for us the special grace of a holy death.
Prayer to Our Lady of Agony
O Mary, Queen of martyrs, Our Lady of Agony, you who remained standing at the cross of your Divine son Jesus and heard His words, "Woman, behold your son," and "Son, behold you mother," thus became our mother. Welcome with kindness our prayer.
O Lady of Agony, just as the disciple took you into his house, we want to open the door of our hearts and our homes, giving you our whole life: past, present, and future. Teach us to live, at all times, doing the will of God, leading us to imitate your assent to the angel knowing full well that it would lead you to the ordeal of your Divine Son's passion and death on the Cross.
Come, O Mother, and rescue us from our anxieties, not allowing us to stray from the path of good, truth, and love! Lead our lives to the safe haven of salvation, that is Jesus! Daring to add our petitions to your agonies, in the face of these difficulties (say your request) we resort to your maternal protection, with the confidence that you won't be disappointed in our supplications. Amen.
Nossa Senhora da Agonia, pray for us.
Mariza Roque da Fonseca
*from The Woman in Orbit and nossasenhoratodas.blogspot.
Photo: nossasenhoratodas.blogspot
---
Have A Great Story About This Topic?
Do you have a great story? Have You Visited This Shrine? Share it!
---
---
Return to Marian Calendar November from Our Lady of Last Agony

Return to Titles of Mary from Our Lady of Last Agony

Return to Roman Catholic Saints Home Page from Our Lady of Last Agony

---