Our Lady of La Chapelle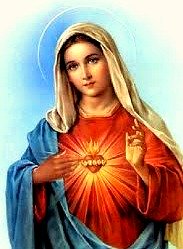 December 4: Our Lady of La Chapelle, at Abbeville (1400)
The Abbot Orsini wrote: "This church was built about the year 1400, on a small hill, where formerly they worshipped idols."
The town of Abbeville is a commune located in the Somme department in Picardy in the northern region of France. It is located on the Somme River. There appear to be four Catholic churches in Abbeville at the present time – Saint Wulfran, St Sepulcre, Saint James, and Brunel.
The church of Saint Wulfram has already been written about, and November 2nd is the date for it on the Marian Calendar. The Church of the Holy Sepulcher is a Gothic style church from the 11th century. The church of Saint James is another Gothic church, but a storm in 2005 brought down part of the steeple that pierced the roof of the nave, and the state of the church is deteriorating quickly. It is in such poor condition that it is threatened with demolition. Of the last church, Brunel, I can find only a photograph of a Gothic style church and an address in Abbeville. None of these churches seem to be what Abbot Orsini was referring to. It is possible, and perhaps even likely, that the church no longer exists, thanks to the French Revolution. If anyone has any information about it, please feel free to add your information to this page.

---
---
"My dear Son, as the Lord of virtues and graces, exalted and adorned me with them from the first moment of my Immaculate Conception. And as, more-over, the hindrance of sin touched me not, I was free from the impediments which prevented other mortals from entering into the eternal gates of heaven; on the contrary the powerful arm of my Son acted with me as being the Mistress of all virtues and as the Queen of heaven. Because He was to vest Himself and assume unto Himself human nature from my flesh and blood, He was beforehand in preparing me and making me like Himself in purity and exemption from fault and in other divine gifts and privileges. As I was not a slave of sin, I exercised the virtues not as a subject, but as a Mistress, without contradiction, but with sovereignty, not like the children of Adam, but like the Son of God, who was also my Son."
Our Lady of La Chapelle

*from The City of God by Venerable Mary of Agreda
---
Have A Great Story About This Topic?
I have very limited information about this feast of Mary. Have you visited this shrine? Do you have more information, or a great story about this? Please share it!
---
---
Return to Marian Calendar December

Return to Roman Catholic Saints Home Page from Our Lady of La Chapelle

---