Our Lady of Kuehn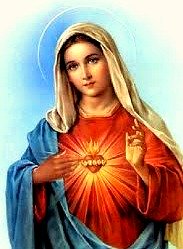 August 8: Our Lady of Kuehn, near Brussels, Belgium
Our Lady of Kuehn, or Kuen, Belgium. The crops were poor; there was much sickness, but the Virgin would not let her people plead in vain. She knew what hunger, poverty and pain was. She would help. Fervently, confidently, lovingly, the people gathered at Mary's little shrine and asked their Mother for aid.
Suddenly the image of Mary smiled and a sweet voice begged them to erect a church in her honor and to build it on this spot. Our Lady promised that on the morrow she would show them where and how. The dimensions of the church are said to have been marked out with a line which is still visible.
It reminds us of when Our Lord returned to Galilee with His first disciples, and Jesus and His Mother were invited to a wedding at Cana, near Nazareth.
Two days of festivities preceded the wedding, which was followed by an evening banquet. It was here that Mary noticed the wine was scarce. She reminded Jesus that He had promised to supply the wine. The Divine Savior had just been speaking of His Heavenly Father; He replied with loving, calm, impersonal majesty: "What is that to you or to me, Woman? My hour has not yet come."
---
---
Our Lady of Kuehn
Mary understood, and was prepared to relieve the anxiety for the guests. Trusting the Father would reveal the Lord's power at the right moment, she went to the worried servants and said to them with quiet modesty and confidence: "Do whatever He tells you."
A moment later Jesus told the waiters to bring the water jars to Him and turn them upside down. The servants brought in six large, stone jars, which when fell were so heavy that two men had to carry just one jar. Jesus said to the waiters: "Fill the jars with water." After this was done, Jesus went to the jars and blessed them; then He said to the waiters: "Draw out now and take them to the chief steward." When the chief steward, who did not know where the wine had come from, tasted the water made wine, he went to the bridegroom, exclaiming in surprise: "Every man first sets forth the good wine, and when they have drunk freely, then that which is poorer in quality. But you have kept the good wine until now!"
Just so, Mary will respond to our appeals, asking Our Lord to relieve our difficulties, for He will not deny the request of His beloved Mother.
*from The Woman in Orbit
James Fitzhenry, roman-catholic-saints.com, Marian Calendar
---
Have A Great Story About This Topic?
Do you have a great story? Have You Visited This Shrine? Share it!
---
---
Return to Marian Calendar August from Our Lady of Kuehn
Return to Titles of Mary from Our Lady of Kuehn
Return to Roman Catholic Saints Home Page from Our Lady of Kuehn

---