Our Lady of Good Tidings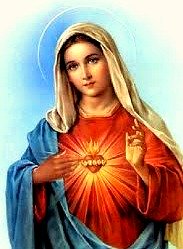 November 19: Our Lady of Good News or Glad Tidings
The Abbot Orsini wrote: "Our Lady of Good Tidings, in the Abbey of Saint Victor, which was visited every Saturday by Mary of Medici. The abbey was founded in 1113 by Louis the Fat."
Louis the Fat, referred to above, is King Louis VI, king of the Franks, who reigned from 1108 until 1137. The Royal Abbey of Saint Victor was paid for by King Louis VI, but it was William of Champeaux, the archdeacon of Notre-Dame in Paris, who unintentionally began the Abbey dedicated to Saint Victor in 1113.
It seems William was famous for the lectures he gave to great crowds of his eager students, but he eventually decided to leave all to become a hermit. He relinquished his chair, thinking to retire to a small hermitage dedicated to Saint Victor near Paris. Due to his fame, however, he was followed by many men who wished to become his disciples and learn ever more from him. Thus, William was unexpectedly forced to once again become a teacher to his own community.
---
---
Our Lady of Good Tidings
This was the origin of what became known as the Royal Abbey School of Saint Victor, as King Louis gave his jewels for the construction of the abbey church. When William was made Bishop of Chalons-sur-Marne in 1113, he was succeeded at Saint Victor's by another elected from their ranks, and so they had their own order that became a center of learning as well as of piety. The abbey was also blessed by the generosity of popes and nobility.
In the 16th century the 12th century buildings were demolished, and Francis I had a new church built. Everything was then destroyed during the French Revolution, when the Vicotine order was dissolved and the buildings leveled to make way for a metro station. At this time there are no known detailed plans or illustrations showing the church or other buildings that once stood there. It is remembered, however, that the church was once renowned for possessing one of the grandest collections of medieval stained glass windows in Paris.
Our Lady of Good Tidings

---
---
Return to Marian Calendar November

Return to Roman Catholic Saints Home Page from Our Lady of Good Tidings

---