Our Lady of France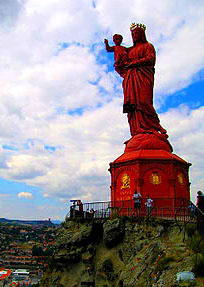 May 15: Our Lady of France (1860)
In LePuy, France, there is a massive rock, probably of volcanic origin, called Rocher Corneille (Cornelius Rock). It towers almost 2,500 feet above sea level.
On the very top of this huge pedestal, there is an enormous metal statue of the Blessed Virgin and Child, erected in 1860. It is the second largest statue in the world, second only to the Statue of Liberty, which was also made in France. The figure of the virgin, approximately fifty-five feet high, stands upon a globe; above her head is a starry crown, her feet crush a serpent. The Infant sits on her right arm, His right hand raised in blessing of the entire countryside.
The project to build the statue was actually initiated in 1847 with the desire to construct a religious monument to recognize the area of Puy-en-Velay. In order to find a worthy model of the Blessed Virgin and her Divine Son, a competition was held having very specific requirements, such as "the Child Jesus is to be depicted blessing the city of Puy without hiding the face of His Mother." In all, 55 artists participated, and the winning model selected at the end of the competition was the statue submitted by J. Bonnassieux.
---
---
Donations to pay for the construction were collected from all over France. The statue was cast from metal obtained by melting down two hundred or more cannons donated by Napoleon III – cannons the French had captured from the Russians at Sebastopol during the Crimean War. Three years later, the 105 main parts of the statue and the accompanying 900 smaller pieces were transported to Puy and hoisted into position to erect the statue of Our Lady of France. Once completed, its total weight was 835 tons, with 110 tons for the statue, 680 tons for the granite pedestal to support it, and 45 tons for the coating that protects the statue.
Here atop the majestic rock, the Blessed Virgin is honored under the title, "Our Lady of France." It stands on the road which passes the shrine of Our Lady of the Thorn high up in the Jura Mountains, there is the shrine of Our Lady of Puy. All crusaders passed this on their way to the Holy Land on pilgrimage to rescue the Holy Places from the hands of the infidel. There was scarcely a knight who did not go to bid farewell to Our Lady of Puy and ask her to care for his dear ones, should he not return.
*from The Woman in Orbit and other sources
Photo courtesy Giraud Patrick
---
Have A Great Story About This Topic?
Do you have a great story? Have You Visited This Shrine? Share it!
---
---
Return to Roman Catholic Saints Home Page from Our Lady of France

---