Our Lady of Dordrecht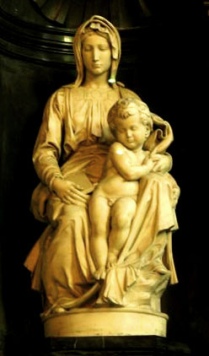 August 4: Our Lady of Dordrecht, Holland, Shrine built by St. Santera
Our Lady of Dordrecht, in Holland, is located at the west end of the Voorstraat, and is also known as Grote Kerk or Onze Lieve Vrouwekerk (Chruch of Our Lady). The name of Dordrecht comes from the informal name of Dordt given to the town by its inhabitants, combined with "drecht," which means "ford." It became a major market city due to its strategic location.

According to tradition, it was built by Saint Sauters, also known as Saint Sura or Saint Santera, in about the year 1300, on the spot designated by an angel, as it is said, who was sent by the Blessed Virgin.
Saint Sauters is said to have planned on building the church when she only had three small coins in her purse, much as Saint Don Bosco later did in the 19th Century. The saint afterward received the crown of martyrdom in the same church where the shrine was erected, as Saint Sura was said to have been murdered by the builders of the chapel out of greed because of her supposed wealth. There is a legend that Saint Sura rose from the dead after her murder. There is a painting of Saint Sura in the Church of Saint Nicholas holding a church in her hands as she looks up at a statue of the Blessed Virgin holding the Infant Jesus on her right arm.
---
---
To render her memory more celebrated, God caused a fountain to flow, after her death, which, through the intercession of the Saint and recourse to Mary, cured fevers. The healing water soothes troubled minds, brings relief to aching brows and strength to weakened limbs, as Mary's sick children come for aid to her.
Dordrecht is the oldest city in Holland, having been granted city rights by the Count of Holland, William I, in the year 1220. The church was built in the Gothic style, and is the only one in Holland with stone vaulting. The tower, at 122.3 meters tall, is the still the tallest structure in the city. A total of 49 bells were installed in the year 1949. Charles the Bold, the last Valois Duke of Burgundy, is buried in the choir space behind the high altar.

In 1568, the Dutch revolted against Spain and King Philip II, and nearly all of Holland met at Dordrecht for what was called the First Assembly of the Free States. The church was already the home of Michelangelo's sculpture known as the Madonna and Child, which had been donated to the church in the year 1514. Thankfully, it somehow survived the ravages of the French Revolution, as was returned to the church after being stolen by Nazis in World War II.
Our Lady of Dordrecht

*from The Woman in Orbit
---
Have A Great Story About This Topic?
Do you have a great story? Have You Visited This Shrine? Share it!
---
---
Return to Marian Calendar August from Our Lady of Dordrecht

Return to Titles of Mary from Our Lady of Dordrecht

Return to Roman Catholic Saints Home Page from Our Lady of Dordrecht

---