Our Lady of Calevourt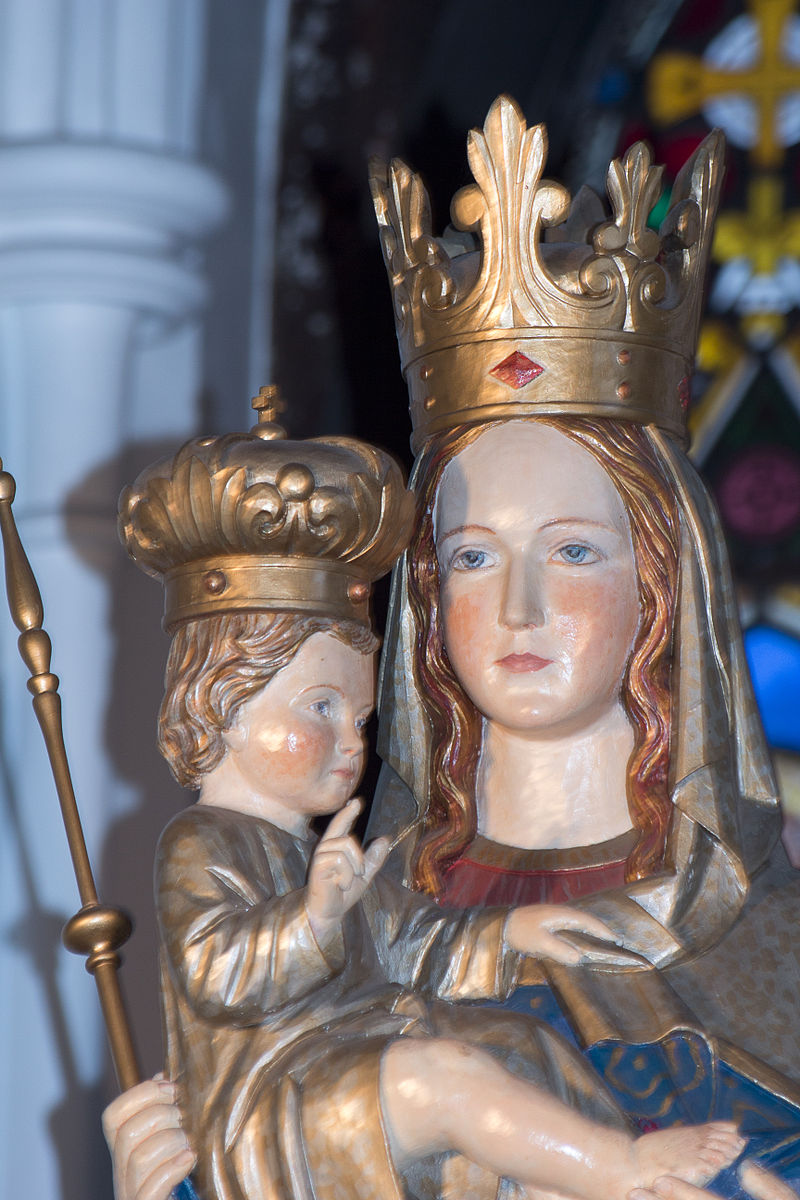 March 20: Our Lady of Calevourt, near Brussels, Belgium (1454)
The Abbot Mathieu Orsini wrote: "Our Lady of Calevoirt, at Uckelen, near Brussels. This image began to work miracles in the year 1451, which led to the determination to build a magnificent chapel in honor of Our Blessed Lady, in the year 1623, which the Inganta of Spain, Isabella Clara Eugenia, devoutly visited in the same year."
The image of Our Lady is known under various titles, due to the fact that Mary gives aid, even miraculous aid, when called upon for help. Our Lady of Calevourt is perhaps better known as Our Lady of Good Success, or Our Lady of Aberdeen.
We are told that during the Protestant "Reformation," the figure was taken to Flanders and hidden away by a Catholic family to protect it from profanation; in due course it fell into the hands of Protestants. This family received numerous graces and blessings which they attributed to the presence of the holy image in their house. They were reconciled to the Church as a result.
---
---
Our Lady of Calevourt
In 1623 a Spanish captain was given the statue with instructions to place it into the hands of Archduchss Isabella. The arrival of the statue in Brussels is related under several incidents. The same day the ship arrived, the Infanta Isabella won a battle against the Hollanders. The Princess sent the statue back to Brussles, providing the necessary funds for a sanctuary she intended to be called Our Lady of Aberdeen. The townspeople greeted the statue enthusiastically with a procession and placed it in the chapel, but when the victory became known, the name of the sanctuary was changed and dedicated instead to Our Lady of Good Success.
From that time on Mary traveled from place to place, but always her image was saved. During the Terrors of the French Revolution the statue was given to an English Catholic who kept it safe until 1805, when it was restored to Belgium. A few years later the Protestants forced the image to be transferred to a parish church in Finistere, where the image now reigns peacefully over her beloved people.
The statue is of the Blessed Mother standing with her Divine Child reclining on her right arm, His feet supported by the lift hand of His mother. Our Lady holds a key and a large rosary. 
Photo by Ray Oaks - Own work, CC BY-SA 3.0, https://commons.wikimedia.org/w/index.php?curid=29918364

---
Have A Great Story About This Topic?
Do you have a great story? Have You Visited This Shrine? Share it!
---
---
Return of Marian Calendar March

Return to Roman Catholic Saints Home Page from Our Lady of Calevourt

---