Our Lady of Bows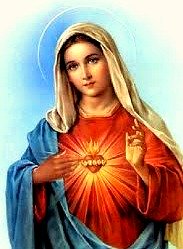 August 3: Our Lady of Bows, London (1071)
Our Lady of Bows was a shrine in London. It is related that in the year 1071 Mary's image there had been carried away by a storm, together with more than 600 houses. It fell uninjured with such violence that it broke into the pavement, and sunk more than 20 feet into the earth, whence it was never possible to draw it out.
There is a church currently in London named Saint Mary-le-Bow that was constructed in about 1080 by the Archbishop of Canterbury. It is a Norman church which may have replaced a previous structure of Saxon origin, and that building may have been destroyed in a storm in 1071.
What is certain is that there was a terrible storm in the city of London in the month of October in the year 1091, based on a 12th century chronicle. This may be the actual date referred to by the Abbot Orsini, as it was recorded that there was a great wind and a tornado from the south that killed two men and lifted the roof and rafters of the church so high that when they fell the rafters were driven so far into the earth that only a seventh or eighth part of them remained visible. The rafters were nearly 30 feet long. It is also mentioned that the rafters could not be pulled back out of the ground, and so were sawed off at ground level and left. I can find no mention of an image of Mary that also was driven into the ground at that time.
---
---
The church of Saint Mary-le-Bow takes its name from the unusual Norman arches, or bows, which were considered a novelty. The church is thought to be built above a crypt from a much earlier age. Sir Christopher Wren, who rebuilt the church after it was destroyed in the Great Fire of 1666, felt it was of Roman origin, and wanted it used as a burial chamber. At that time the only access to the crypt was by a trapdoor with a ladder, although later a staircase was constructed to assist access.
Besides the tornado that struck the church in 1091, there was a fire in 1196. A tower of the church collapsed in 1271, and the church was completely destroyed by the German's in World War II before being rebuilt in 1964.
There is a saying that to be a true Londoner, a Cockney, one must be born within hearing distance of the bells of Saint Mary-Le-Bow. It is now an Anglican church.
*from The Woman in Orbit
---
Have A Great Story About This Topic?
I have very limited information about this feast of Mary. Have you visited this shrine? Do you have more information, or a great story about this? Please share it!
---
---
Return to Marian Calendar August from Our Lady of Bows
Return to Titles of Mary from Our Lady of Bows
Return to Roman Catholic Saints Home Page from Our Lady of Bows

---