Our Lady of Benoite-Vaux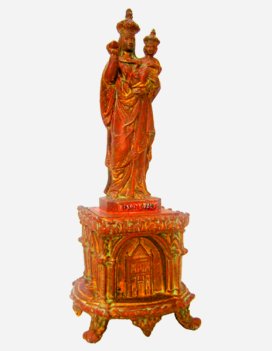 August 24: Our Lady of Benoite-Vaux, France
The shrine of Benoite-Vaux (Blessed Valley, or Valley of Blessing) is located in the town of Rambluzin and Benoite-Vaux nestled in a valley and surrounded by the Souilly forest. It is thought that it was originally a place of worship in Christianized Gaul as early as the 5th century. In about the year 1157, the Bishop of Verdun gave what had been an Augustinian monastery to the Norbertines, who later cared for the pilgrims who soon traveled there. It was the sanctuary of the dukes of Lorraine, Anjou, and Guise.

The original statue of the Blessed Virgin at Benoite-Vaux in the diocese of Verdun, was said to have been found by foresters working in a wood after they heard angels singing the Ave Maria. They found the statue standing at the foot of an oak tree near a river.

This chapel preserved the image of the Blessed Virgin, rendered famous by miracles. In the 12th century there had been a priory at the location, and Our Lady of Benoite-Vaux had been a center of pilgrimage for centuries. In this place there was also once a miraculous fountain, the water of which cured several maladies. The Stations of the Cross have been carved in stone near the fountain.
---
---
Our Lady of Benoite-Vaux
It is known that there were organized pilgrimages during the time of the Thirty Year's War when people desired to moderate Heaven's displeasure which seemed to have struck them. In the year 1638, as the Thirty Years War was raging, the statue was taken to the castle of Neuvill-en-Verdunois for safekeeping. The shrine was eventually destroyed. It was rebuilt in 1698 by Antoine de l'Escale, the lord of Longchamp, and his wife Marguerite de Conde.
In the year 1793, during the French Revolution, the shrine was once again destroyed, but this time the miraculous statue was also destroyed. According to the Marian Dictionary, the statue had depicted the Blessed Virgin holding the Infant Jesus in one arm and an apple in the other hand. The image was also called "Comforter of the Afflicted" and the "Queen of Peace."

The shrine was restored in the year 1830. The successor statue of Our Lady of Benoite-Vaux that is currently venerated there is also very old, and is said to resemble the original, and was crowned in 1875. The shrine is still the center of a pilgrimage, usually during the first week of September every year. There is another shrine of the same name in the diocese of Lyons.

In 1849 the Marists who had been miraculously preserved from a flood, founded a pilgrimage to Our Lady of Benoite-Vaux. The shrine is now also the location of a Norbertine retirement home.

*from The Woman in Orbit and other sources
James Fitzhenry, roman-catholic-saints.com, Marian Calendar
---
Have A Great Story About This Topic?
Do you have a great story? Have You Visited This Shrine? Share it!
---
---
Return to Marian Calendar August

Return to Roman Catholic Saints Home Page from Our Lady of Benoite-Vaux

---