Our Lady of Amiens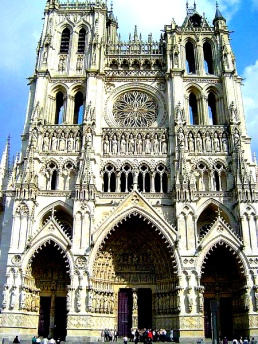 December 17: Our Lady of Amiens, France
The shrine to Our Lady of Amiens is a cathedral. The church was erected in the third century by Saint Firmin, the bishop of Amiens, who received the crown of martyrdom during the persecution of Diocletian. A part of the head of Saint John the Baptist was preserved here; it was brought hither by a traveler named Galo, or Wallon de Sarton, depending upon the legend, on his return to Constantinople in the year 1205.
The old cathedral was destroyed by fire in 1218 when lightning struck the roof during a storm. The scale for the new church was so large that a nearby church dedicated to Saint Firmin the Confessor was demolished, as well as a large hotel. In an unusual move, it was decided to construct the nave of the new church first, instead of the choir.
The church was rebuilt in Gothic style, and although it was completed in later centuries, being called the "Gothic Parthenon," the majority of the work was completed in 1288. The cathedral is more spacious than Notre Dame in Paris, with an interior volume at about 260,000 cubic yards, which is considerably larger than the cathedral at Reims. It can hold approximately 10,000 people, which is probably a greater number than the entire population of Amiens during the Middle Ages.
---
---
Our Lady of Amiens
The nave, made of stone, is over 42 meters in height, taller than any other cathedral in France. The choir is flanked by seven chapels, that in the center being the "Lady Chapel." This shrine to Mary is so beautiful that one poet aptly wrote, "It is not possible to add anything to or to take anything from it."
Still, it should be noted that the cathedral might have completely collapsed in the 16th century were it not for Pierre Tarisel, who observed that the entire structure was unstable, as the flying buttresses were insufficient for the task of upholding the nave. He designed a system for supporting the walls which is still in place today. The cathedral was intentionally targeted for destruction by bombing during World War II, although the bombs missed the cathedral through a seeming miracle.
*from The Woman in Orbit and other sources
Photo courtesy of cavorite
---
Have A Great Story About This Topic?
Do you have a great story? Have You Visited This Shrine? Share it!
---
---
Return to Marian Calendar December

Return to Roman Catholic Saints Home Page from Our Lady of Amiens

---