Our Lady of Africa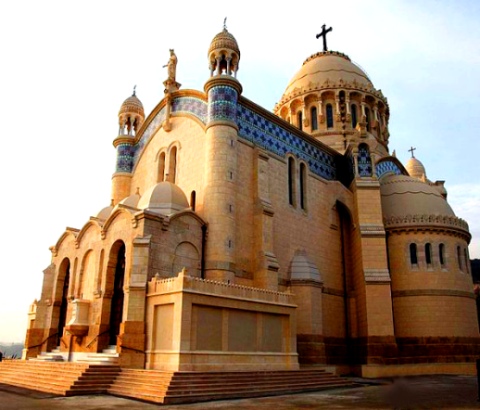 April 30: Our Lady of Africa, Algiers (1876)
In our day we think of North Africa as being dominated by Islam, but in the 2nd century AD the region was part of the Roman Empire, and in the 3rd century, under the Emperor Constantine, it began to become Christian. This was once the land of Saint Augustine, and remained Christian until the Arab invasions in later centuries. The French re-established themselves early in the 19th century.
There was, of course, no church in Algiers when the first bishop arrived, and the local population was hostile to the French. As he had no money to build a church, Bishop Dupuch went back to France to appeal for any assistance. The Sodality of Our Lady in Lyon had a bronze statue of the Immaculate Conception that they offered to the bishop with the understanding that she would be the Protectress of both the Mohammedans and the natives. It was brought from France in 1840 and was for long entrusted to the Cistercian monks of Staueli; then Cardinal Lavigiers, founder of the White Sisters, enshrined it in the new basilica at Algiers, where in 1876 the image was crowned.
---
---
Our Lady of Africa
The Basilica of Our Lady of Africa, or Notre Dame d'Afrique, was eventually built, and is situated on a height overlooking the Bay of Algiers. It took fourteen years to construct in an attractive Neo-Byzantine style, and was consecrated in the year 1872.
The statue donated by the sodality became known as Our Lady of Africa, and the statue venerated in Algiers today is this same bronze image, very dark in color, but with European features. Pilgrims began to come to venerate the image where the lame, the blind, and the crippled were miraculously healed, and sailors came also to beg for protection of their long and perilous voyages. The walls of the basilica are now covered with votive offerings testifying to the assistance the faithful had received from the Mother of Mercy.
At this and other North African shrines the veneration given to Mary by Mohammedans is very marked. The full name of Cardinal Lavigiers' congregation of White Sisters is Missionary Sisters of Our Lady of Africa. There is an indulgenced prayer to Mary under that title for the conversion of the Africans on the apse: Notre Dame d'Afrique priez pour nous et pour les Musulmans (Our Lady of Africa, pray for us and for the Muslims.) There is a proper feast commemorated for the crowning of the Algiers statue on April 30.
Photo courtesy: Magharebia
*from The Woman in Orbit and other sources, roman-catholic-saints.com, Marian Calendar
---
Have A Great Story About This Topic?
Do you have a great story? Have You Visited This Shrine? Share it!
---
---
Return to Marian Calendar April

Return to Roman Catholic Saints Home Page from Our Lady of Africa

---