Our Lady de la Treille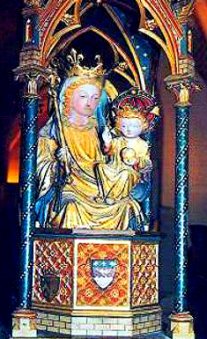 August 26: Our Lady de la Treille, Douay, France (1543)
There was a church known as Saint Peter's at Douai, France, which was dedicated in the year 1066 by Baldwin V, Count of Flanders. It was a very important religious center even in that century, as the collegiate church had forty canons and a prosperous school attached to it as well. A statue of the Virgin Mary that later became known as Our Lady de la Treille, was venerated there. This church of Saint Peter was known to have been visited by Saint Thomas of Canterbury, Saint Bernard of Clairvaux, and Pope Innocent III.

On 14 June in the year 1254, fifty-three cripples who had come to the church to pray for a miraculous cure were suddenly healed at the same instant. There were other extraordinary miracles involving the image of Our Lady de la Treille that occurred between the years 1519 to 1527, as well as from 1634 to 1638. It was also at this church where, in 1481, the Duke of Burgundy, Philip the Good, held the first chapter of the Order of the Golden Fleece, which he had founded for the defense of Christendom against the threat of Turkish aggression.
---
---
Our Lady de la Treille
It is related that when some children were playing disrespectfully before the image of Our Lady de la Treille, the image of the Blessed Virgin made a sign of disapproval with her hand. This miracle induced the inhabitants of Douay to build a chapel for it in the year 1543. This chapel was built at Lille, France, and was known as Our Lady de la Treille. The statue is also known as Our Lady of Arbour and Our Lady of Arbor.
The church of Our Lady of Treille was destroyed during the French Revolution, and the whereabouts of the statue became unknown. It was not until 1802, when Napoleon I permitted the practice of the Catholic Faith again that the statue resurfaced. It was purchased by a chaplain and given to the church of Saint Catherine in 1801. It was not until 1842 that the pastor of Saint Catherine restored the devotion to Our Lady of Treille which once again thrived. A short time later plans were made to erect a magnificent Gothic style church to house the statue, and it was constructed in the heart of Old Lille upon the site where there had once been a castle. The construction of the choir began in 1856, and the miraculous statue was installed in 1872, even though construction did not end until 1999.

*from the writings of the Abbot Orsini and other sources
James Fitzhenry, roman-catholic-saints.com, Marian Calendar
---
Have A Great Story About This Topic?
Do you have a great story? Have You Visited This Shrine? Share it!
---
---
Return to Marian Calendar August

Return to Roman Catholic Saints Home Page from Our Lady of Treille

---