Notre Dame of Paris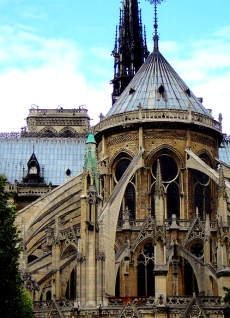 December 7: Notre Dame of Paris, (1550)
The Abbot Orsini wrote: "On this day, a Sunday, in the year 1550, the canonesses of Our Lady of Paris being in procession before the image of the Bless Virgin, which is near the door of the choir, a heretic from Lorraine, breaking through the crowd, sword in hand, sought to strike that image, but he was prevented by the assistants, and on the Thursday following, he was executed before the porch of Our Lady."
Our Lady of Paris, or Notre-Dame de Paris, is a cathedral oftentimes simply known as Notre Dame. It is among the largest churches in the world, completed in French Gothic style. There is a separate room in the church which houses many important relics, including the crown of thorns and one of the nails from Christ's Passion, a fragment of the True Cross, among other relics. Veneration of the Crown of Thorns takes place on the first Friday of the month, and also on Good Friday.
The city of Paris was evangelized in the 3rd century, and in the year 250 the pope sent them their first bishop, Saint Denis. At that time the Christians were being persecuted throughout the Roman Empire, so Catholics practiced their faith in secret. Saint Denis was martyred within a few years, but his successors continued until Constantine became emperor and ended the persecution.
---
---
Notre Dame of Paris
The first church was built at about that time as an expression of the faith of the people, but the Gothic Cathedral of Notre Dame of Paris presently occupying the spot was begun in 1163 by Bishop Maurice de Sully. There is a legend that he had a vision of a glorious new cathedral in Paris, and that he himself had drawn the outline for it on the ground where the cathedral now stands. The cornerstone was laid in the presence of Pope Alexander III, but it was not until 1345 that the cathedral was basically completed. The style was a new one, and Notre Dame was one of the first cathedrals to make use of flying buttresses to allow for the large stained-glass windows, including the world famous rose window.
In the year 1548 the cathedral was damaged by Protestants, and various tombs and stained glass windows were destroyed. It was probably at about this time that the incident the Abbot Orsini refers to occurred. In 1793 the cathedral suffered desecration during the French Revolution, and much of the art and many of the relics were damaged or stolen. The cathedral was for a time used as a warehouse to store food.
In 1801 the cathedral was given back to the Catholic church, and in 1804 the coronation ceremony of Napoleon I took place there. The Cathedral of Notre Dame has been repaired and restored several times since then, and is now again in use for its intended purpose.
Notre Dame of Paris

---
Have A Great Story About This Topic?
Do you have a great story? Have You Visited This Shrine? Share it!
---
---
Return to Marian Calendar December

Return to Roman Catholic Saints Home Page from Notre Dame of Paris

---