Nativity of the Lord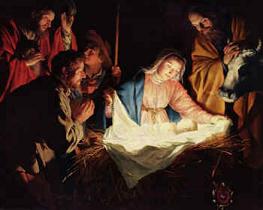 December 25: Nativity of the Lord, Christmas
The Abbot Orsini wrote: "On this day, at the hour of midnight, the Blessed Virgin brought forth the Savior of the world, in the stable of Bethlehem, where a fountain sprung up miraculously on the same day."
"The infant God therefore was brought forth from the virginal chamber unencumbered by any corporeal or material substance foreign to Himself. But He came forth glorious and transfigured for the divine and infinite wisdom decreed and ordained that the glory of his most holy soul should in His Birth overflow and communicate itself to his body, participating in the gifts of glory in the same way as happened afterwards in His Transfiguration on mount Tabor in the presence of the Apostles.
"It was the will of God that the most blessed Virgin should look upon the body of her Son, the God-man, for this first time in a glorified state for two reasons. The one was in order that by this divine vision the most prudent Mother should conceived the highest reverence for the Majesty of Him whom She was to treat as her Son, the true God-man. Although She was already informed of His two-fold nature, the Lord nevertheless ordained that by ocular demonstrations She be filled with new graces, corresponding to the greatness of her most holy Son, which was thus manifested to Her in a visible manner.
---
---
Nativity of the Lord
"The second reason was to reward by this wonder the fidelity and holiness of the divine Mother; for her most pure and chaste eyes, that had turned away from all earthly tings for love of her most holy Son, were to see Him at his very Birth in this glory and thus be rejoiced and rewarded for her loyalty and beautiful love.
"The sacred evangelist Luke tells us that the Mother Virgin, having brought forth her firstbegotten Son, wrapped Him in swathing clothes and placed Him in a manger. The two sovereign princes, Saint Michael and Saint Gabriel, were the assistants of the Virgin on this occasion. They stood by at proper distance in human corporeal forms at the moment when the incarnate Word, penetrating the virginal chamber by divine power, issued forth to the light, and they received Him in their hands with ineffable reverence. In the same manner as a priest exhibits the sacred host to the people for adoration, so these two celestial ministers presented to the divine Mother her glorious and refulgent Son.
"In the same moment in which the holy angels thus presented the divine Child to His Mother, both Son and Mother looked upon each other, and in this look, She wounded with love the sweet Infant and was at the same time exalted and transformed in Him."

*from The City of God by Ven. Mary of Agreda

---
Have A Great Story About This Topic?
Do you have a great story? Have You Visited This Shrine? Share it!
---
---
Return to Marian Calendar December

Return to December Franciscan Calendar Page
Return to Roman Catholic Saints Home Page from The Nativity of the Lord

---