Matthew Talbot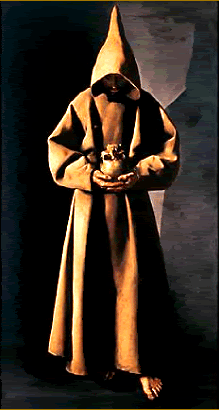 Venerable Matthew Talbot, Confessor, Third Order
This modern penitent and Tertiary is a great miracle of God's grace. He was born in Dublin, the third of twelve children of honest and devout parents, on May 2, 1856. At first, he was employed as a messenger boy with a firm of liquor merchants, later he became a laborer.
In spite of good training, however, he took to drinking. He became a drunkard, but the day dawned when grace led him to Damascus. After spending fifteen years as a drink addict, he went one evening to his mother and said: "I am going to take the pledge." On the same day, he made a general confession and after that, he was a changed person.
Without doubt, Matthew Talbot merited this grace of conversion by the way he preserved chastity, never omitted making the Sign of the Cross morning and evening, and was faithful in attending holy Mass on Sundays. The struggle against a passion that was so deeply rooted in him was not an easy one. He gathered strength, however, from his daily attendance at holy Mass and his visits to the various churches in Dublin on Sundays, as well as from the devotion he had to our Blessed Lady.
Venerable Matthew Talbot
At the suggestion of his confessor, he joined the Third Order of St. Francis and entered wholeheartedly into the spirit of the Poor Man of Assisi. His bed consisted of a board, and a block of wood served as his pillow. For hours he would kneel on his bare knees without supporting himself in any way. His nourishment consisted of nothing but bread and tea. In this way, he became a model for Christian workmen: conscientious, faithful in small matters, friendly toward everybody. His secret, as he was wont to call his efforts at acquiring virtue, remained his own.
Although his weekly wages in a wholesale lumber yard amounted to hardly five dollars a week, nevertheless he contributed one hundred fifty dollars towards the foreign missions in a single year, but more than this, the holy laborer assisted the sick and sinners by his prayers. Sometimes the results were remarkable.
In 1923 he was laid low by sickness, due to the labor and the penance he performed. Then Matt Talbot became the personification of patience. Once, twice, he was discharged from nursing care, and then he began his penitential life anew. Finally, his time came. On Trinity Sunday, 1925, Matt was on his way to church when he fell. Casting one more look toward heaven, he died. When his body was being prepared for burial, a heavy wagon chain was found around his body, and another around his arms and feet. He was 69 years old.
The cause of Matt's beatification was introduced soon after his death. His tomb is now in Our Lady of Lourdes Church (25 Killarney Street, Dublin). Pope Paul VI bestowed on Matt the title of "Venerable" when he declared on October 3, 1975, that after his conversion Matt had practiced all the virtues in a heroic degree. The following year, in a general audience on December 22, the Holy Father expressed the hope that the two required miracles would be obtained through the intercession of Matt so that he could beatify him.
Who would ever have surmised that the drunkard Matt Talbot would develop into a saint? And yet that is exactly what happened. Let us learn from his case to leave all things in the hands of God. He knows how to turn all things to the best end, whether we see the issue that way or not.
God's ways lead to a definite goal. God says: "My thoughts are not your thoughts, neither are your ways my ways." But so much is certain: Just as we are more definitely sure of reaching our destination if we let the right train take us there, so are we assured of arriving at our goal if we cling to God, even though His ways are concealed from us. He is the best engineer. Hence, we must always remain closely united to God.
God's ways are, above all, directed to the things of eternity. We always imagine that things must go well with us here on Earth. We are always building air castles for ourselves. Yet, we have not been created for his world, but rather for the happiness of eternity, and this is ever in the mind of God, especially when He sends us suffering and affliction. It is by this means that He wishes to detach us from this earth and to make us ripe for heaven.
Prayer of the Church
We beseech Thee, O Lord, that Thou wouldst pour into our hearts the gifts of the Holy Ghost, through whose wisdom we have been created, and by whose providence we shall be guided. Through Christ our Lord. Amen.
*from the Franciscan Book of Saints by Marion A. Habig, OFM
---
Return to June Franciscan Calendar