Dedication of the Church of La Ferte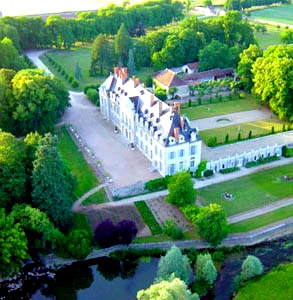 May 20: Dedication of the Church of La Ferte, Burgundy, in honor of Our Lady (1113)
The Abbot Orsini wrote: "Dedication of the Church of La Ferte, in the diocese of Chalons, in Burgundy, in honor of Our Lady. This abbey, the eldest daughter of Citeaux, was founded in the year 1113, by Savaric and William, Counts of Chalons."
The first daughter-house of Citeaux, L'Abbaye de la Ferte, was founded by Saint Bernard's Cistercian Order, and once located between the Bragny forest and La-Ferte-sur-Grosne. The abbey was made possible by a second donation to the Cistercians by Count Savaric and his son William. At the same time, the knight of Arlier, Montailly, gave them the operation of a limestone quarry near St Martin de Laives, from whence came the stone used for construction of the abbey. Other charitable donations to this new monastery included a mill on the Grosne and a vineyard.
---
---
Dedication of the Church of La Ferte
It was one of the largest Cistercian abbeys, and one of the first four abbeys for women, which included Pontigny, Clairvaux, and Morimond. These abbeys had a major role in the future organization of the Cistercian Order.
Like many abbeys, la Ferte suffered immensely during the major wars and upheavals in French history, but most especially during the hundred years' war, the religious wars, and the French Revolution. During the years 1165 and 1166, the abbey was at the very heart of disputes between Hugh III, Duke of Burgundy, and the Counts Macon Gerard and Guillaume de Chalon.
The convent buildings were reconstructed during the 13th century, and in 1362 the whole complex was surrounded by a stout wall and moat with a single door served by a drawbridge. Even so, this defensive system could not hold back the determined Protestant troops of Admiral Coligny, who attacked and set the inoffensive abbey church and several other buildings on fire. Then, in 1574, Rev. Francis Beugre rebuilt the dormitory, abbey cloister, and other buildings. In the year 1760, Fr. Francois Chemilly added some new construction, including an addition to the front of the abbey house. The pediment that can still be seen is decorated with his coat of arms.
In the year 1791, the abbey was unlawfully seized and sold as the property of the French national government. It was purchased by a family that has owned the site since the Revolution, although today only the magnificent abbey 'palace' with its interiors remains, and it is nothing now more than a bed and breakfast inn. Turned to secular use, the owners advertise the now "divine suits" and the "vast staircase, rooms with sculpted paneling, tapestries, paintings and XVIIth century furniture." The church, however, was never restored, and there is now no trace of the magnificent edifice once graced by the presence of Saint Bernard.
James Fitzhenry, roman-catholic-saints.com, Marian Calendar
---
Have A Great Story About This Topic?
Do you have a great story? Have You Visited This Shrine? Share it!
---
---
Return to Roman Catholic Saints Home Page from La Ferte

---