Giles Mary of Saint Joseph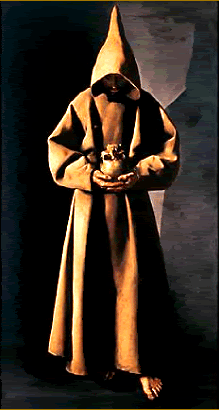 Blessed Giles Mary of St. Joseph, Confessor, First Order
Blessed Giles Mary was born on November 16, 1729, at Taranto in southern Italy. His parents were very poor. They were, however, highly esteemed by all because of their God-fearing conduct. They noted with great joy that their son was blessed with deep piety and a maturity of mind that was far beyond his age.
When Giles attained the proper age, he was sent to a craftsman in town to learn a trade. Here, too, he distinguished himself by his diligence and the progress he made and was at the same time so modest and sociable towards his fellow apprentices that they adopted several of his pious practices.
Every morning on his way to work he would stop at the church to attend holy Mass, and on returning home in the evening, he again stopped there to perform some special devotion. His love of piety awakened in him the desire to withdraw from the world in order to live only for God. He prayed long and fervently for enlightenment, and then, feeling himself divinely called, he entered the Order of Friars Minor in the year 1754. At his investiture, he received the name of Giles Mary of St. Joseph.
Blessed Giles Mary of Saint Joseph
Even during the days of his novitiate, his future sanctity was discernible; but after he made his vows, it was noticed by all with what holy zeal he strove for the highest perfection. The ordinances of the order were like so many signs on a highway, according to which he regulated his conduct most scrupulously. God was always his only objective. He venerated his two patron saints, Mary, and Joseph, with the greatest confidence, so that through their intercession he might, like them, become pleasing to God.
Religious poverty he observed most carefully. When he gathered alms to alleviate the needs of his brethren, he never wanted to accept anything for himself. A poor habit and meager food satisfied him; frequently he partook only of bread and water. In the convent, he edified his brethren by his humble submissiveness. He was always ready to perform any task assigned to him, but he preferred those who were lowly and mean. His work finished, he would spend his spare time in church before the altars of our Lady and of St. Joseph pouring out the most ardent prayers by day and by night.
For many years Brother Giles was occupied in gathering alms for the convent in Naples. He was beloved by everyone he met and highly esteemed for his virtues. He had permission from his superiors to share the alms he gathered with such needy persons as he would meet on the way, and he experienced the keenest joy in providing the poor at one time with food, at another with clothing, and then again with household articles. He was the most active person in the entire city in succoring the needy, and many a tear was dried through his ministration. However, he turned these opportunities to account also by exhorting his clients to lead peaceful, Christian lives. In his prudence and charity, he was instrumental in bringing many a hardened sinner back to the right path.
Having spent all his energy in the service of God and the poor members of Christ up to a ripe old age, he died a blessed death on February 7, 1812, clasping a crucifix in his hand and directing his look to images of the Blessed Virgin and of St. Joseph.
So many miracles were performed upon his prayers during his lifetime and through his intercession after death, that as soon as the prescribed fifty years had elapsed the process of beatification was begun, and Pope Leo XIII solemnly enrolled him among the blessed on February 5, 1888.
When Giles entered the religious state, he received as his special protector, along with the Blessed Virgin, her chaste spouse St. Joseph. He devoutly honored his patron throughout life, and St. Joseph had his client along the road to sanctity even until his death. St. Joseph is a special patron of all the children of the Catholic Church, for Pope Pius IX selected him as a special patron of the Catholic Church. The Father of Christendom said to us what Pharaoh once said to the people of Egypt: "Ite ad Joseph – Go to Joseph." (Fen. 41,55) Call upon the holy foster father every morning and ask his assistance with the indulgenced prayer: 'Help us, Joseph, in our earthly strife, ever to lead a pure and blameless life.'
Prayer of the Church
We beseech Thee, O Lord, that we may find help in the merits of the spouse of Thy most holy Mother so that what we cannot obtain of ourselves may be given to us through his intercession. Who livest and reignest forever and ever. Amen.
*from the Franciscan Book of Saints by Marion A. Habig, OFM
---
Return to February Franciscan Calendar