Fiacre Tobin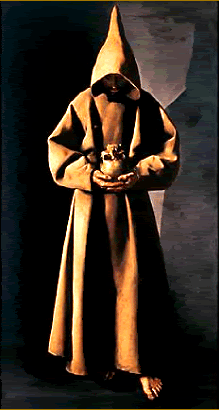 Venerable Fiacre Tobin, Martyr, First Order
Fiacre Tobin was born in Kilkenny, Ireland, in 1620, and entered the order among the Capuchins at a very early age. In the persecution to which Catholics were subjected on Cromwell's accession, when other priests sought safety in flight, Father Fiacre remained steadfast at his post, to strengthen Catholics in their faith and especially to assist the sick.
Following the law of expulsion in 1653, Father Fiacre went to France for a while, but soon he returned to his native land and exercised his sacerdotal ministry in secret. Then he was discovered by the officers and led bound to the magistrate at Dublin.
In reply to the question of his identity, he answered without hesitation: "I am a Capuchin priest, and have returned to my native land to shed my blood for the Faith." It was feared that if they would execute him, it would put new strength into the faith of the Catholics. So, he was cast into prison.
Venerable Fiacre Tobin
His bed was made of hard boards, a block of wood was his pillow, and half-cooked peas were his food. A month later he was taken aboard a ship, in order to be sent anew into exile. But his broken body was no longer able to hold out under the hardships. He died on the voyage on March 6, 1710, a martyr to the cause of the Faith. His cause of beatification, and that of another Irish Capuchin martyr, Father John Baptist Dowdall, who died in the same year, are now underway in Rome.
The value of the sacraments is great. It was for that reason that Venerable Fiacre shunned no danger in order to administer the sacraments to the faithful. The sacraments are the channels through which the salutary graces of Christ flow to us. Happy he who may drink at these channels! Happy he who can make them available to others!
By means of the sacraments, all the needs of Christian life are provided for. Baptism cleanses us from original sin and makes us children of God. Confirmation gives us strength for all the storms of life. The Holy Eucharist nourishes the soul. Penance raises us up again when we have fallen. Extreme Unction supplies the necessary strength for the journey to eternity. Holy Orders consecrate the servants of God. Matrimony sanctifies human association. And thus, provision is made for everything and everybody.
We should cooperate with the sacraments and cultivate a responsive heart in order to receive the sacraments with greater fruit. After receiving them we must manifest a grateful heart. By means of Love of God, purity of soul, and a virtuous life we should endeavor to increase the effects of the sacraments to the fullest measure. We should manifest a growing holy enthusiasm, again and again, "to draw waters with joy out of the Savior's fountains." (Is. 12,3)
Prayer of the Church
We beseech Thee, O Lord, let Thy sacraments perfect in us all that is contained in them, so that one day we may taste in unconcealed reality the things that we now celebrate in a veiled manner. Who livest and reignest forever and ever. Amen
*from the Franciscan Book of Saints by Marion A. Habig, OFM
---
Return to March Franciscan Calendar