Chasuble of
Saint Ildephonsus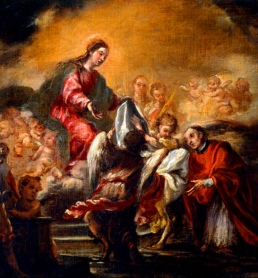 December 19: Our Lady of Toledo, Spain (657)
Saint Ildephonsus was a Visigoth born into a noble family, but the date of his birth in about 607 is not known for certain. He was tutored by Saint Isidore of Seville, and then became a Benedictine monk against the wishes of his father while at a young age. He was ordained a deacon in about 630, and in 657 was called to the archiepiscopal throne in Toledo, the Visigothic capital of Spain.
One day in that same year of 657, while Saint Ildephonsus, now the Archbishop of Toledo, was saying matins, Our Lady appeared to him accompanied by a great number of the blessed. She was holding in her hand the book on the Perpetual Virginity of the Blessed Virgin Mary which Ildephonsus had composed in her honor. She thanked him for it, and out of gratitude gave him a golden chasuble that had specifically been woven from him in heaven. (The chasuble is the outer garment worn by a priest when celebrating Mass).
---
---
Tradition claims that Ildephonsus's successor, Siagrius, tried to use the alb, but died in the act of putting it on. The garment is said to have been seen and touched by Herbert Losinga, Bishop of Norwich, as late as the eleventh century.
There are those who say the present location of this chasuble of Saint Ildephonsus is not known, or that the story is only legend, but neither of these assertions is correct. This celestial gift is still preserved and is now kept at Oviedo. Alphonsus, the chaste King of Castile, transferred it to the church of Saint Savior which he had built. It, along with the Sudarium of Jesus Christ, and many other relics, is contained in the Holy Chest of Oviedo. The Spanish hero Rodrigo Diaz, better known the Cid, was a living witness when the chest was opened in his presence.
Chasuble of Saint Ildephonsus

*from The Woman in Orbit and other sources
---
Have A Great Story About This Topic?
Do you have a great story? Have You Visited This Shrine? Share it!
---
---
Return to Marian Calendar December

Return to Roman Catholic Saints Home Page from Chasuble of Saint Ildephonsus

---