Chartres Pilgrimage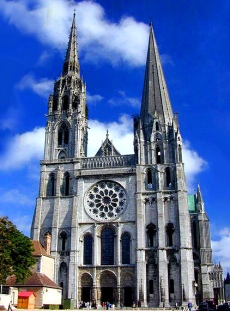 December 22: Our Lady of Chartres, Mother of Youth, France (1935)
Our Lady of Chartres, or Notre-Dame de Chartres, is a beautiful Gothic style cathedral located in Beauce, France, which is about 50 miles southwest of Paris. This cathedral, which was first built in the time of the apostles, was demolished several times over the centuries. It was re-erected in its present state by Saint Fulbert, the fifty-fifth bishop of Chartres at the end of the 12th century into the beginning of the 13th century.
Our Lady of Chartres is the site of possibly the oldest existing devotion to Mary – tradition states that an ancient order of Celts paid homage, centuries before her birth to the mother of the prophesier Savior, the Virgin who was to bear a Son.
The story of the student's pilgrimage to Chartres started in 1935 with a group of fifteen young men and girls of the Sorbonne, who sacrificed their Pentecostal holidays in prayer to the Holy Spirit and to Mary. They marched 62 miles to the shrine in the Chartres pilgrimage and prayed in common as did their predecessors. The next year there were 36 who went, and in the following year 150. Then the war came; but during the eight hard years that followed, the pilgrimages were not given up. The numbers increased, until in 1948 about 6,500 students formed their line of march to Mary.
---
---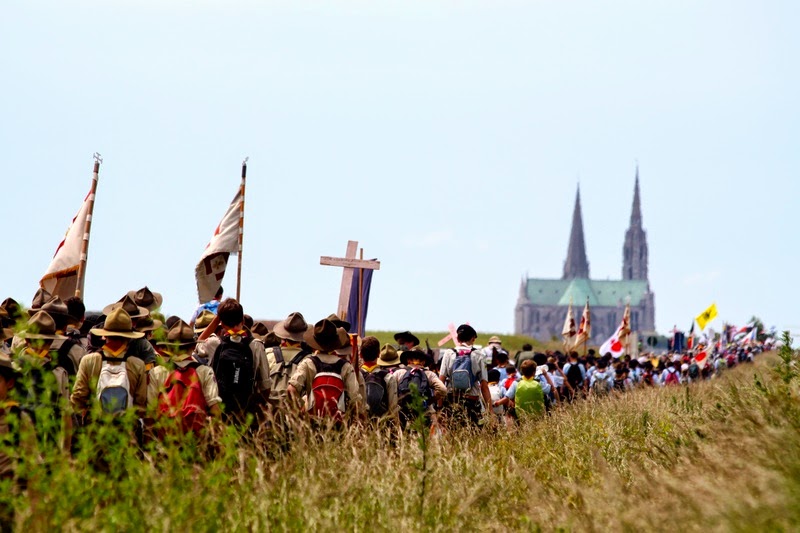 Chartres Pilgrimage
Most of the pilgrims were in their early twenties or late teens, from the universities, colleges and schools of Paris and the provinces, although some were from foreign countries. The number of unbelievers, atheists and Communists has always been high even among the students; while Protestants and Jews also make up a goodly part of the pilgrims. Some come out of curiosity, some following the persistent urgings of a friend; some for the sport of hiking, or to answer an invitation to test their grit and endurance; but whatever their reasons for starting, few end without a definite spiritual "lift." Many make the pilgrimage in bare feet over gravel roads, which is not easy; the sick and crippled go, too.
In our day there are thousands, perhaps 10,000 pilgrims who walk through the French countryside to Chartres. Their trek is an open act of faith and reparation, a thing almost never seen in modern times. In making the Chartres pilgrimage, these young people help to give France a new birth of devotion to Mary; something new and spotless has been born as in the warmth of Bernadette, the Cure of Ars, Vincent de Paul – re-lighted in the hearts of young moderns. France must now place her hope in youth, the youth of France and the youth of the Church, through Our Blessed Mother, the Lady of Chartres.

---
Have A Great Story About This Topic?
Do you have a great story? Have You Visited This Shrine? Share it!
---
---
Return to Marian Calender December from Chartres Pilgrimage

Return to Roman Catholic Saints Home Page from Chartres Pilgrimage

---