Our Lady of Belle Fontaine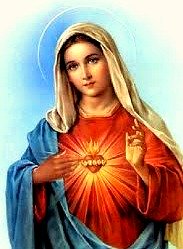 November 8: Our Lady of Belle Fontaine, La Rochelle, France
The Abbot Orsini wrote simply: "This image has been honored from time immemorial."
Our Lady of Belle Fontaine, or Our Lady of the Beautiful Fountain, is also known as Notre-Dame de Bellefontaine in French. Our Lady of Belle Fontaine is located near Begrolles-en-Mauges, a French commune in the department of Mine-et-Loire, in the Pays de la Loire region of France, which has a population of just over 1500 people.
According to tradition it was sometime in the 13th century when there was a man hunting near the Benedictine Abbey when he severely injured his hand. Apparently the injury was so severe that the man feared that he might lose his life from the flow of blood that would not stop. Having with him a bowl, he filled it with fresh water he found nearby and placed his hand in it as he prayed intently to the Blessed Virgin Mary for her intervention on his behalf. The man's faith was rewarded, as the hunter looked at his hand to witness the wound miraculously close as if he had never been injured at all.
---
---
Our Lady of Belle Fontaine
In recognition of the miracle the hunter later returned to place a statue of the Blessed Virgin in the vicinity of the place of his miraculous healing. The statue quickly attracted pilgrims from many parts of Europe when the news of the miracle became widely known. Thus, starting in the 13th century, the statue of the Virgin was venerated under the title of Notre-Dame-de-Bellefontaine. A small chapel was also built around the statue of the Virgin Mary.
Shortly before the coming of the French Revolution, a chapel was built whose care was entrusted to a local hermit. The statue of the Blessed Virgin miraculously escaped the revolutionary turmoil, and the place remained a place of celebration for the faithful of the two neighboring counties. The nearby Benedictine Abbey, which had been founded at the end of the eleventh century, was plundered and confiscated by the state during the Revolution, and then sold in the year 1791. In 1794 some of the buildings were set ablaze and the rest of the abbey left in ruins. Some of the property was purchased on January 17, 1817, by a Trappist monk, Urban Guillet, and it once again became a flourishing monastery.
The pool from which the hunter obtained the water still exists, and is now protected behind a metal grate. There is also a modern statue of the Blessed Virgin Mary located in a grotto nearby, as the original statue disappeared during the fighting and chaos of World War I. It's current whereabouts are unknown.

---
Have A Great Story About This Topic?
Do you have a great story? Have You Visited This Shrine? Share it!
---
---
Return to Marian Calendar November

Return to Roman Catholic Saints Home Page from Our Lady of Belle Fontaine

---