Our Lady's Apparition to Saint Bonet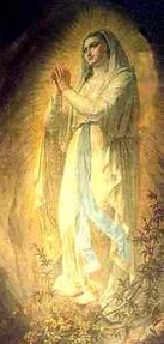 March 29: Apparition of Our Lady to Saint Bonet (7th Century)
The Abbot Orsini wrote: "Apparition of Our Lady to Saint Bonet, Bishop of Clermont, in Auvergne, whom she ordered to say Mass one night when he had remained in the church to pray. The saint, leaning against a pillar as if to hide himself, the stone became soft and made the place for him, which is seen to this day. But the Blessed Virgin having obliged him to officiate, the ceremony being finished, she left him the chasuble which had been brought him by angels to celebrate in. The heavenly present is still to be seen at Clermont, where it is preserved with great care."
Saint Bonitus, or Saint Bonet, was for ten years the Bishop of Clermont in Auvergne. He was known to be greatly devoted to the Blessed Virgin Mary. According to tradition, he actually saw the Blessed Virgin Mary while he was praying by himself in church. On that day he was interrupted from his prayers when he heard angelic voices singing in heavenly harmonies. He lifted his head to see a multitude of angels entering the church, their light filling the entire place. With them were many of the saints, who processed along behind the angels. They were followed by the Queen of Heaven, who was seated upon a magnificent throne that was held aloft by the seraphim.
---
---
Our Lady's Apparition to
Saint Bonet

When the heavenly procession stopped before the main altar, Saint Bonitus hear some of the saints ask who was to say Mass. The Blessed Virgin herself turn to Saint Bonitus and said:
"Here is Bonitus, my faithful servant and excellent bishop. He is worthy of fulfilling this holy function."
Some of the blessed saints then detached themselves from the others and approached the holy bishop, who was startled and trembling as they raised him to his feet. Taking him by the hand, they accompanied the bishop to the choir where they clothed him in a chasuble of marvelous workmanship that the Blessed Virgin had brought for him to say this Mass. The saints and angels assisted the bishop as acolytes.
When the Mass was ended the Blessed Virgin, the saints and angels left the bishop alone again. Two years later Saint Bonitus retired and went to the abbey of Manlieu, where he remained until he died in the year 710. The chasuble that was the gift of the Blessed Virgin was kept at Clermont until the year 1793, when it was burned with many other sacred relics by the broad minded insurrectionists of the French Revolution.
Apparition to Saint Bonet
James Fitzhenry, roman-catholic-saints.com, Marian Calendar
---
---
Return to Marian Calendar March

Return to Roman Catholic Saints Home Page from Apparition to Saint Bonet

---