Our Lady of Alba Royale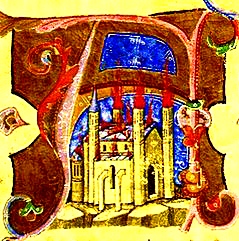 December 14: Our Lady of Alba Royale, Hungary (1005)
Our Lady of Alba Regis is a shrine in Hungary, built by Saint Stephen, King of Hungary, who gave his kingdom to the Blessed Virgin; and so erected this shrine to commemorate the event and remind himself and his whole kingdom that she was royalty there, not he.
The shrine is likewise known as Our Lady of Alba Royale, as indicated in the title above. As the saintly King Stephen came to his coronation, he begged that the crown be placed on the head of the statue of Mary, and not on his own head. The stately church built in honor of the Mother of God is at Stuhlweissenburg, Hungary, and was the place where the Kings of Hungary were both crowned and, in 1038, was also the place where Saint Stephen was buried.
Szekesfehervar, which was known as Alba Regia from the time of the ancient Romans until sometime in the Middle Ages, is one of the most ancient of Hungarian settlements. It was established at the convergence of several important trade routes, as traders and craftsmen began to settle there. It was Saint Stephen who replaced the tribal districts with regular counties. Later, the town was also one of the most important stations on the Crusader route to the Holy Land.
---
---
Our Lady of Alba Royale
The vast majority of the Hungarian kings were crowned at Szekesfehervar, and fifteen kings of Hungary were buried there. Work on the basilica continued for centuries, including towers reaching 70 meters in height, so that it could be said that the cathedral of Saint Stephen was a marvel of its time. The Hungarian throne was kept inside, and there were many royal weddings and funerals that took place within its walls.
Little now remains of the basilica but ruins, as it was captured by the Turks in 1543, who ransacked the church, and in 1601 finally destroyed the basilica with gunpowder and fire. At one time the basilica had held the crown jewels and the Holy Crown of Hungary.
The Turks were finally driven from the town in 1688, and Szekesfehervar is currently said to be the eighth largest city in Hungary.
*from The Woman in Orbit and other sources
---
Have A Great Story About This Topic?
Do you have a great story? Have You Visited This Shrine? Share it!
---
---
Return to Marian Calendar December

Return to Roman Catholic Saints Home Page from Our Lady of Alba Royale

---