Our Lady of the Cloister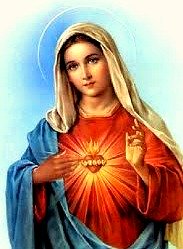 October 10: Our Lady of the Cloister, Citeaux, France (1624)
The Abbot Orsini wrote for this feast on October 10th: "Our Lady of the Cloister, at Besancon. The image of Our Lady, placed in the cloister of La Madeleine, was preserved from a fire, in the year 1624, though the niche where it stood was reduced to ashes."
Our Lady of the Cloister, also known as Notre-Dame de Le Cloitre, was the name of an abbey at Citeaux, and not at Besancon, as recorded by the Abbot Orsini, although the two towns are not far from each other. The abbey was forcibly emptied and the structures almost completely destroyed during the ravages of the French Revolution, but in 1898 Citeaux was restored by the Cistercians and the rebuilding began. Although only portions of a 15th century library and two other structures dating from the 17th and 18th century remained, Citeaux, with its new church and about 35 monks, is once again the mother house for the order.
---
---
March 22: Our Lady of Citeaux, France, built by Saint Robert (1098)
The Abbot Orsini wrote: "On Palm Sunday, in the year 1098, Saint Robert, Abbot of Moleme, retired with twenty-one of his monks to the diocese of Chalops-sur-Saone, where he built, in honor of Our Lady, the celebrated monastery of Citeaux, the head house of the order."
The original abbey dates back to 1098 when Saint Robert of Molesme left Molesme to found another monastery. They ended up at Citeaux, and the new monastery was one dedicated to honor the Blessed Mother under the rule of Saint Benedict. Their magnificent church was not completed for nearly another 100 years in the year 1193. The famous Saint Bernard of Clairvaux actually left Citeaux to found his monastery at Clairvaux in the year 1115. It was from this place that new Cistercian abbeys sprung up all over Europe for the benefit of all mankind.
The monastery at Citeaux suffered pillaging several times throughout the Hundred Year's War, and the monks were often forced to take refuge elsewhere during those perilous times. It was not until the 16th century before the community once again numbered over 200 monks, but then with the Wars of Religion the number of monks began to decrease again. Finally, in 1791, the abbey was struck by the French Revolution as the property was illegally seized and sold by the government.
Perhaps because of the Revolution, I can find no other reference to the miracle related by the Abbot Orsini.
*from The Woman in Orbit and other sources

---
Have A Great Story About This Topic?
I have very limited information about this feast of Mary. Have you visited this shrine? Do you have more information, or a great story about this? Please share it!
---
---
Return to Marian Calendar October

Return to Marian Calendar March

Return to Roman Catholic Saints Home Page from Our Lady of the Cloister

---